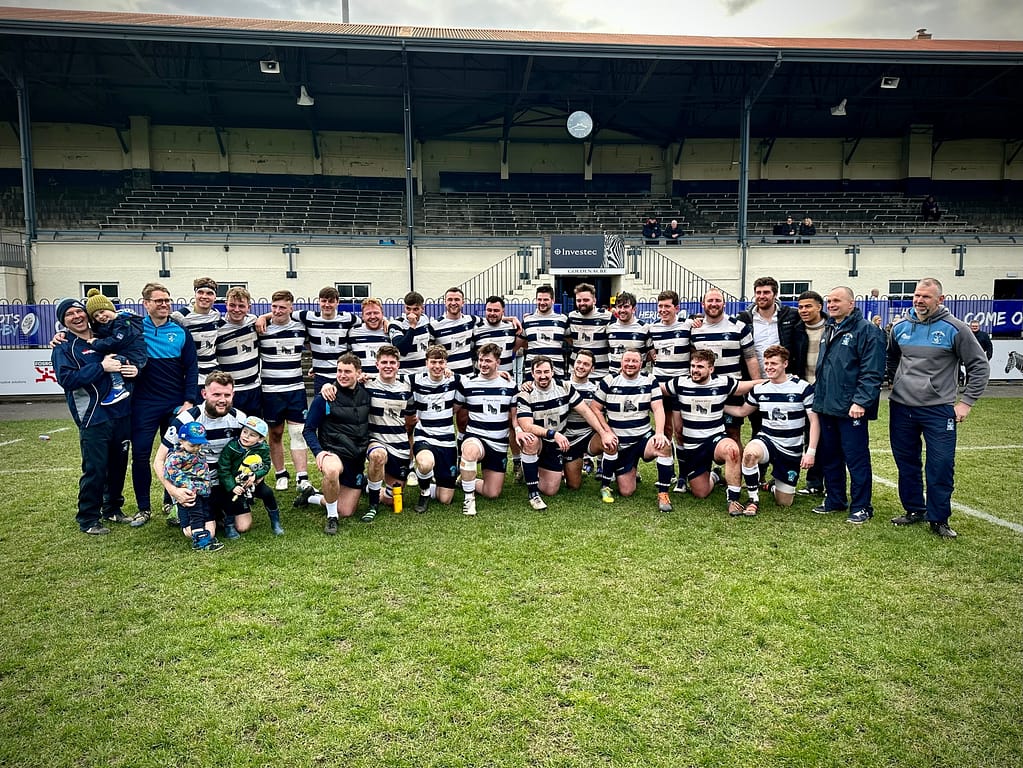 On Saturday the Blues Men 2nd XV beat Edinburgh Accies 2s 30-5 at Goldenacre to win the Tennent's National Reserve League Division 1. This is the third year in a row that the Goldie side has won their league and next week they will go again with East meets West semi-final play-offs against Glasgow Hawks. A Heriot's win will see them make the final, which they won last year and they will be looking to repeat that feat.
Huge credit has to go to the Coaching Team of Bob McKillop, Liam Steele, Michael Goldie, and Craig Robertson. Saturday's league victory was the 7th league title that Michael Goldie has won as a coach and/or player- a modern Scottish record until someone tells us otherwise!
Bob McKillop commented "As a coaching team we were delighted that the squad's produced their best performance of the season in their biggest game of the season – so far! The 2/2As squad is a vital part of the development pathway at Heriot's, so whilst winning leagues is always nice, we see that as a by-product of our focus on player development. One of the things that pleased me the most on Saturday was the balance between playing to our structure and reacting to situations in front of us – and that's been our key theme all season.  I believe some of the young lads in this squad can step up to Blues 1s and on to Super Series if they keep working hard."
Michael said "I have been very lucky to play alongside and now coach some truly great young players (and some old ones) over the years in the Heriot's Blues 2's. The club continues to attract and develop the best young talent in the country and we have created an environment in the Blues 2's for them to flourish. The standard of the top teams in these leagues and playoffs is equivalent to some high standard 1st XV fixtures in the lower leagues, so please get along and watch if you can."
There are a number of good young, and not so young, players in the side who will look to kick on to the 1st XV next year. One player who is approaching his last few seasons is Captain Stewart "One more year" Mustard who has been inspirational both on and off the pitch. Stewart lifted his third league in a row as skipper and it is a credit to him as an individual that he continues to perform week in and week out despite being on the wrong/right side of 40! 
Stewart is pictured below with Iain Kay (left) & Rory Kirkpatrick (right), all George Heriot's School former pupils.