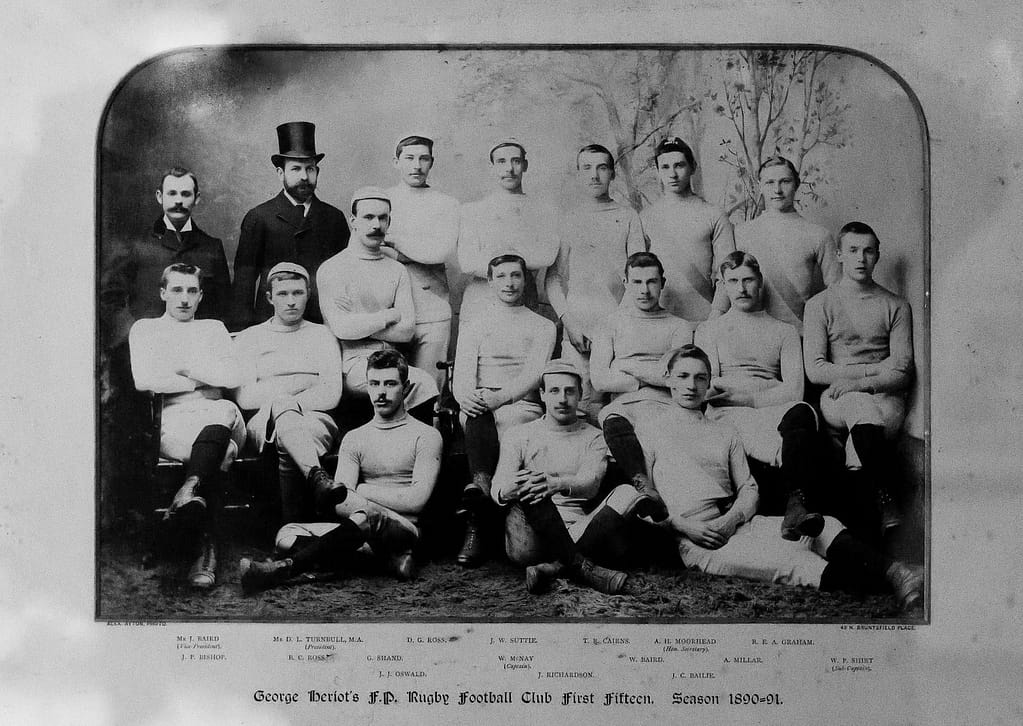 Heriot's Rugby Club was founded in 1890, and within two decades, was able to compete with all the leading teams in the Scottish game. Confirmation of the steady rise to the upper echelons came in 1919-20 when Heriot's won the first of several unofficial club championships, under the league system conducted by newspapers in the decades before the SRU championship was launched in 1973-74. So successful was the club in the 1920s that up to 10,000 spectators were attracted to matches against other leading teams and the club fielded up to eight XVs each Saturday.
Heriot's known to play fast, open rugby, won the SRU club championship in 1978-79, and back to back in 1998/99 and 1999/2000. In 2014/15 the club won both the Premiership title and the Charity Shield and got to the semi-final of the Cup – making it one of its most successful seasons yet. The club also welcomed the legendary Barbarians to Goldenacre, which allowed the team to play against a whole host of world class players.
The school and the rugby, hockey and cricket clubs share fine grounds at Goldenacre, but the facilities are no longer confined to members who were educated at the school, and in the professional era the club benefits by recruiting players who have developed their rugby skills elsewhere. Heriot's are noted exponents of the seven-a-side game, having won all the major Scottish tournaments, and were the first club from north of the border to claim victory in the Twickenham Sevens in 1949. The Under-21 Sevens which used to be held at Goldenacre each spring attracted up to 32 teams. Since 1922 the Club has provided a steady flow of international players for Scotland, plus two for England. Notable contributors to the Scottish cause included eight international full-backs and three brothers – Iain, David and Kenny Milne – who were capped in the front row. Heriot's players have also been chosen for the British & Irish Lions, Barbarians and a host of other representative matches and tours.
The motto of George Heriot encouraged all within the Heriot's community to "distribute cheerfullie". Heriot's Rugby Club is intent on distributing sincere friendship and promoting excellent standards of play at Goldenacre in an era when the game is changing, but where the harmonious spirit essential to the well-being of rugby union must continue to be fostered.