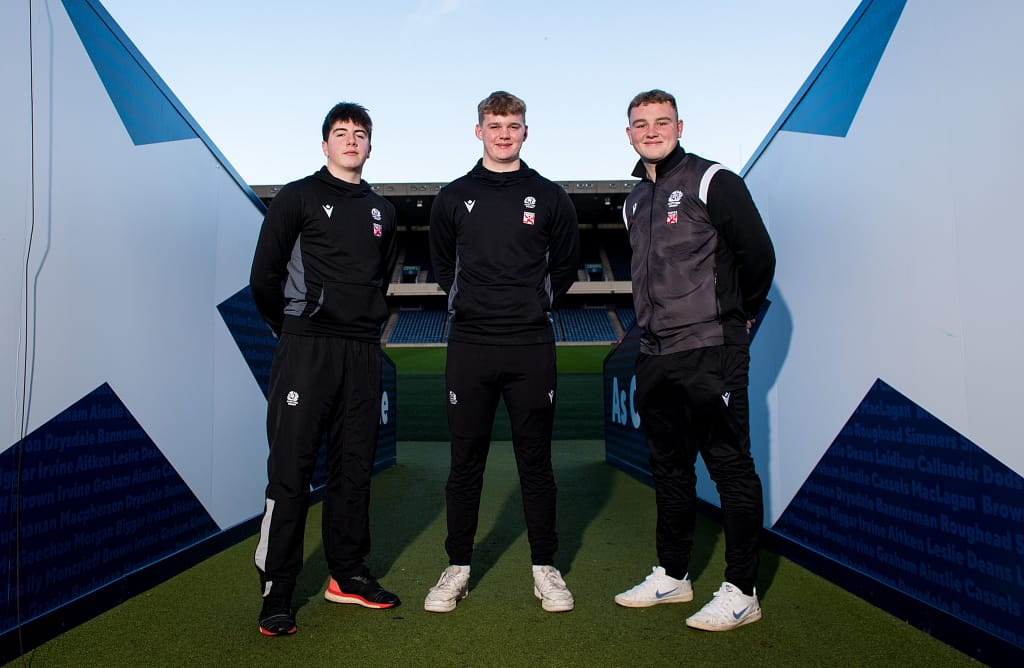 Heriot's Blues player Guy Kirkpatrick will be heading off to South Africa later this month after being awarded the Macphail Scholarship.
The 18-year-old up-and-coming stand-off who has been playing for the first XV and second XV at the club since he left George Heriot's School last summer, will leave these shores on January 23 alongside other exciting young male talents Monroe Job and Callum Smyth.
The trio will be immersed in South Africa's renowned rugby culture at the high-performance training facility at Stellenbosch University for the first half of 2023.
They will link up there with around another 37 young players from all over the world and, it is thought, the group will play some matches together towards the end of their time near Cape Town to put into practice everything they have learnt.
The Macphail Scholarship was established in 2005 by Scottish Rugby and the Robertson Trust in memory of former internationalist John Macphail.
A few years ago, when New Zealand used to be the destination for scholarship recipients, household names like John Barclay, Jonny Gray and Finn Russell were part of it as they made their way in the game.
As a result, it is a massive honour for Kirkpatrick – and George Heriot's and the club – to have been selected.
"I am really excited about this opportunity," Kirkpatrick said when the news was announced at BT Murrayfield on Wednesday.
"I always loved rugby at school and moving to Heriot's was always the natural progression for me post-school.
"I've been down at Heriot's for the last few months and everyone has made me feel so welcome. Joining a playing group with experienced players in it could have been daunting, but all of the players and coaches made it easy for me.
"That transition was helped by the fact that at end of last season, as I was finishing school, I came down and did a bit of training, so I knew quite a few of the faces when I returned ahead of 2022/23.
"I have enjoyed the challenge of trying to break into the first team more regularly while I have learnt a lot from playing in the seconds. The club are supportive and the club culture is really great, so I've really enjoyed my rugby down at Goldenacre."
"As a 10 growing up and moving into senior rugby it's really just about understanding the game. There are a lot of experienced 10s down at Heriot's so it has been good for me to work next to these guys and see their understanding of the game and their game management.
"I think, when you come out of school, you have the tools to play men's rugby, but controlling the game at that level comes with experience and this trip will be a great experience."
As well as playing for Heriot's of late, Kirkpatrick has been working hard as a member of the Scottish Rugby Academy's Edinburgh group based mainly out of Sighthill.
He was also part of the Edinburgh Rugby under-19 squad for the age-grade 1872 Cup match with Glasgow Warriors at Scotstoun.
On his return from South Africa the former Scotland under-18 wider squad member hopes to push onto under-20 honours and play more for the club and maybe progress to the Super6.
Phil Smith, the Heriot's Blues first XV head coach, said of the exciting news: "Guy is a very exciting young stand-off who is highly skilled and committed to his rugby.
"Any young player whose first team debut was off the bench at Mansfield Park versus Hawick – where he calmly took control of his team and set up two late tries – is ready for the next step.
"This fantastic opportunity means he can progress quickly through a condensed programme of work that will test him in all areas of his game.
"We just can't wait to see what type of player and person returns to Goldie later in the year."
So, who are the two players Kirkpatrick will be travelling with?
Well, Monroe Job, 18, has made an instant impact in senior rugby in recent months playing No.8 for Selkirk in the Tennent's Premiership.
The Scotland under-18 cap said: "Playing for the Selkirk firsts has been amazing, it is a big step up physically, but I have really enjoyed the challenge and now I cannot wait to get out to South Africa and learn more."
And Scotland under-18 prop Callum Smyth came through the ranks at Kettering RFC and Bedford School, but is now based in the Borders and has a Scottish mother from Ayrshire.
"I think I'll learn so much from this trip," the 18-year-old said.
Regarding the "experience of a lifetime" for Kirkpatrick and co, Scottish Rugby's technical and operations director Stephen Gemmell added: "Our partnership with The Robertson Trust and Macphail family is invaluable and gives us the opportunity to send three of our most promising young players to a world class playing environment in South Africa to immerse themselves in a fresh challenge with promising players from different countries and cultures.
"Unfortunately, our 2020 group's visit to Stellenbosch Academy of Sport was cut short due to the pandemic, but this year's cohort will follow in their footsteps where they will be exposed to an environment that will undoubtedly accelerate their development.
"The scholarship has a proven track record of playing a key part in the careers of established professional and international players and we have high hopes for the next set of players who will benefit hugely from this experience."
By Gary Heatly
Twitter: @G_HMedia