We are saddened to hear the passing of Hamish Keith More on Sunday 2nd January 2022. Hamish was born 30th May 1940, educated at George Heriot's School; a keen rugby and cricketer and so much more.
Hamish's main successes came as a cricketer playing for Scotland from 1966 to 1976 as an opening batsman and wicket keeper, Somerset and MCC, receiving a special award from them as the most "capped" MCC player. He played against and at times with the likes of Viv Richards, Fred Truman, Brian Close, Garry Sobers and Ian Botham.
Iain Duckworth, President of Heriot's Rugby Club recalls Hamish and his ability to wind people up that was legendary, both friend and foe alike and often during the same match.
"He was a talented no 10 with an educated boot but not noted for his love of the physical side. So his winding up of Ron Glasgow, reckoned by the All Blacks to be the best flanker in the world, bordered on the suicidal. But then the two of them would be found sharing a beer and a laugh after the match which is one of the myriad stories about HK."
He was hugely entertaining with an ability to recall data and facts stretching back decades and with no qualms about self-promotion or self-deprecation.
Colin Blaikie former FP and Scotland Full Back tells of a lunch with Hamish and Bob Burrell that lasted for 5 hours without repetition or hesitation, nearly costing Colin his job. And he could hold his own in such robust company as Geoff Boycott and Ian Botham.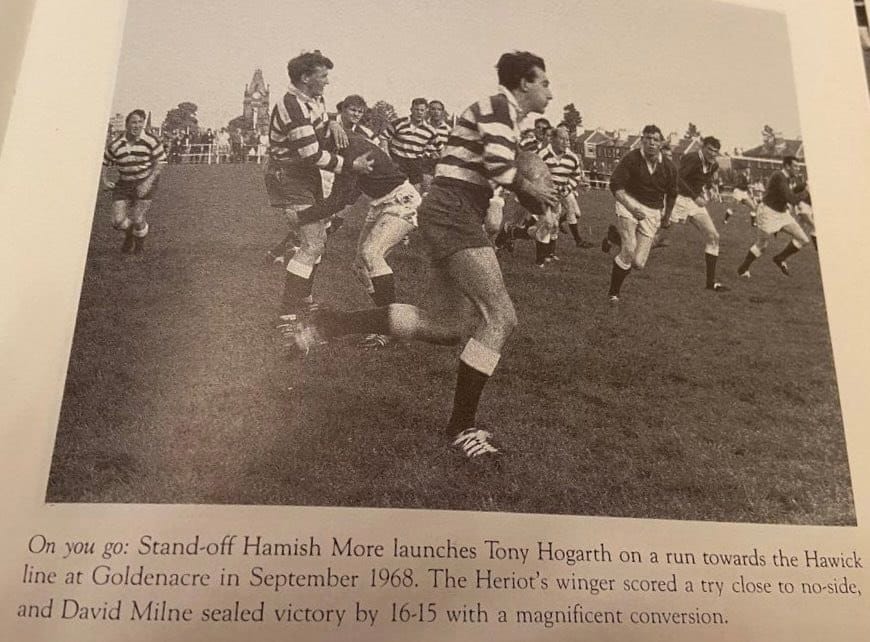 Euan McIntyre says
"Hamish was a true legend in cricketing circles. Known throughout the cricket world with friends in virtually every cricketing country worldwide, his exuberant personality, his passionate love for the game, his love of camaraderie, while, at the same time, having the ability to be bombastic in his opinions – although always with a touch of exaggeration one might submit – made him the character he undoubtedly was.
I first knew HK when I was 16 years old in the school first XI and he would come to our midweek nets in his green Mini Minor and impart words of wisdom to we callow cricketing youths…but always with very good intent.
54 years have since elapsed and I, and many other Heriot cricketers can, and should, all remember in that period so much success in various league and cup competitions, won under his stewardship.
On the camaraderie side many of us enjoyed immensely the overseas tours we undertook with him. Hong Kong (twice), Barbados, Canada with the Capercailles, a mixture of Herioters and players of other clubs in Scotland. Space, or perhaps something else, doesn't allow a run down on the magnificent fun we had…Hamish always at the forefront.
But we were never allowed to forget the importance of doing our utmost to win the game. Very important. Standards shouldn't fall.
He was also a stalwart of the MCC playing over 350 matches. A memorable feat.
There is no need to list statistics. Runs, wicket keeping victims, matches played all into his 70's. Quite remarkable.
He will be sadly, sadly missed."
Hamish was a regular at Goldenacre, even following a heart procedure in 2021 and will be a huge loss.
Our thoughts are with his partner Cathy, son Hamish and daughter Lesley and the rest of his family.