Heriot's Blues Women players have been taking part in the Movember 60km Run Challenge to raise funds for suicide prevention and mental health awareness.
Jacqueline Kerr, Paige Turner and Megan Taylor are part of the Euan Higgins Personal Training & Coaching team that has so far raised more than £7,000 towards the cause.
Movember is a charity that raises funds for men's health and is most notable for male participants raising funds by growing a moustache during the month of November.
The 60km Run Challenge is set at that specific distance to highlight that 60 men die due to suicide each hour, every hour across the world.
For Jacqueline taking part in the Movember challenge is personal, as her family lost her brother Lee to suicide in 2012.
As a nurse, she has also worked with many patients during her career who have been impacted by mental health illnesses.
On Lee's birthday, 30 November, Jacqueline is encouraging others to run 2km on the day and donate £2 towards the Movember campaign.
Not only does she want to raise funds and awareness during the campaign but encourage long-term habits that promote mental health.
''Lee's death is devastating for my family. Sadly, suicide is far too common and there is a ripple effect that impacts families, friends and communities,'' Jacqueline said.
''I would encourage others to help break the stereotype that men shouldn't talk about their emotions. Speaking up if you are depressed takes courage and needs to be normalised.
''As a shift worker I don't have much free time during a working day so I do yoga in the morning while the kettle boils and run the short distance to work, which I find puts me in a positive mood and reduces stress. Everyone can make small changes like this to maintain good mental health.''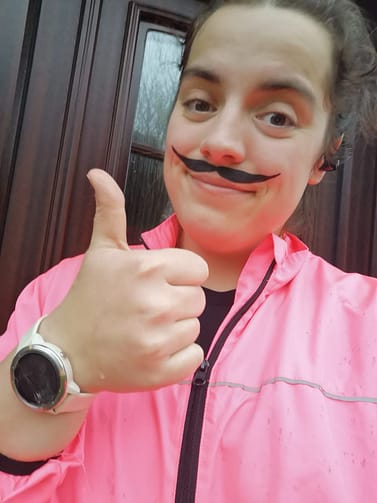 For Paige taking part in the Movember 60km Run Challenge is about doing something for the families in her community that have lost men to suicide, while raising awareness about men's health.
''My mum has called me several times recently, to tell me young men from back home have been lost to suicide. A lot of these guys I grew up with, they seemed happy and the life of the party,'' she said.
''I am fully behind what Movember does. I have been lucky enough to have some amazing men around me throughout my life, I wanted to give something back for them.''
Click here for the Euan Higgins Personal Training & Coaching Movember page to donate to Jacqueline, Paige or Megan.
Support services can be reached at 24 hours a day: Samaritans 116 123 and NHS 24 111.
Photo credit: Rugby People