Sunday 19th September 2021 @Goldenacre, Edinburgh
Match report by Colin Renton for The Offside Line
AYRSHIRE BULLS climbed into second spot in the FOSROC Suer6 table with a comprehensive win over a stuttering Heriot's side that was unable to reproduce the effort that had been evident in a gutsy win over Watsonians last time out. Bulls looked sharper and more powerful in every facet of the game and are a side very much on an upward trajectory.
Naturally, their coach Pat MacArthur was delighted to take all five points from the match, but he was particularly chuffed at keeping a clean sheet.
"The boys put in a huge amount of effort," he said. "Against a Heriot's team that we know can attack very well, that 'nil' is huge to us. It doesn't come through anything apart from out and out effort.
The victory was built on an impressive first half effort that saw Bulls score points with a calmness that spoke of a side playing with a high degree of self-belief.
"When you go away from home, if you can look after the ball at the start, you put yourself in a good position. If you play a frantic game it can swing either way. The boys are learning through analysis, through what we're working on at training and credit to them, they are taking it on board," added MacArthur, who believes that there is more to come.
"As long as we don't get complacent, as long as they are willing to push themselves, I think that for the group we have here, the sky's the limit. There will be highs and lows, it's about the boys being able to deal with both of them."
For his Heriot's counterpart, Andrew Kelly, there was a sense of frustration that his men had again failed to build on a good result.
"We've been here before. We have come off the back of good wins and not been able to turn up the next week. So, it's a bit of a sore one," he stated. "We know what we're doing to get bad performances. It's educating the players on what a good game looks like and the stats we've got to hit to get a good game. It's a bit of a process. It might take this season to realise that, but we'll definitely look to fix a few of these errors for next week. We've got to remain positive. We're a good team, we're just inconsistent at the moment."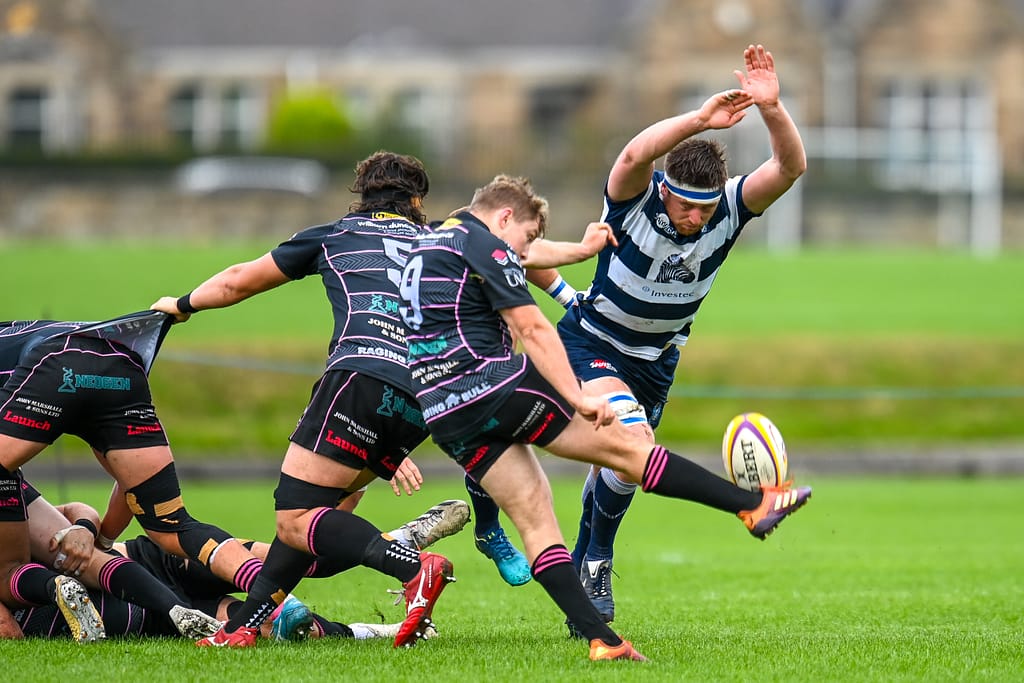 He had seen his players start well and enjoy most of the territory in the opening minutes without posing any threat to the try line. Then, having soaked up the early pressure without too much difficulty, it was Bulls who struck the first blow. Elias Caven burst clear, and it took two defenders to haul him down 15 metres from the whitewash. However, an offside at the breakdown handed the visitors a straightforward penalty which Tom Jordan clipped over to open the scoring.
Caven's blistering pace was also at the root of the next score. He powered through a gap in the Heriot's defence and it took a desperate tap tackle to bring him down, although Bulls were not to be denied and the ball was swept out to Robbie Nairn who blasted his way over.
The visitors continued to gather points on every visit to opposition territory with Jordan landing another penalty after a high tackle by Ruaridh Leishman that earned the Heriot's lock a yellow card.
And the next trip beyond the halfway line saw the Bulls extend their lead yet further. From a Heriot's perspective, try number two was worryingly simple – a pass from Jordan to Robert Beattie who then fed Nairn for a straightforward score in at the corner. Jordan banged over the conversion to leave the visitors with a comfortable lead.
The home side wasted the opportunities that came their way, but they had one last chance to make an impression on the scoreboard with the final play of the half. A penalty into touch created the foundation for a maul which inched its way towards the Bulls line. However, once again, the chance was squandered when Bulls stole the ball and ended the first period 18-0 ahead.
Having been outplayed so comprehensively in that first 40 minute period, the only way was up for Heriot's and to their credit, they restarted well and dominated the opening phase of the second period. Three penalties in quick succession allowed them to apply pressure and drive at the Bulls defence. But there was no way through and the home side's tally remained resolutely at zero.
With those opportunities gone, Heriot's heads went down and Bulls regained the supremacy they had enjoyed earlier in the game. The difference this time was that the home defence was up to the task and managed to avoid conceding further points until the clock ticked towards 70 minutes.
The defensive frailties that had cost them in the first half resurfaced in the closing minutes and allowed Bulls to kick on. Try number three for the visitors came when Aaron Tait was given the space to build up a head of steam and turn on the after burners as he motored round the final Heriot's defender.
That set in motion the race for the bonus point score and it came courtesy of skipper Blair MacPherson, who had also bagged a hat trick in the reverse fixture last month. Bulls took a strike against the head at a scrum in the shadow of the Heriot's posts, allowing MacPherson to pick up and dive over.
There was time for a final effort by Heriot's but, as had been the story of the afternoon, the maul was easily defused by Bulls, much to the satisfaction of MacArthur.
Teams –
Heriot's: R Jones; R McMichael (J Couper 60), R Kay, S Edwards, C Young; B Houston , A Ball (J Geldenbloom 63); A Nimmo (C Keen 56), C Fenton (M Liness 71), J Scott (M Jones70), R Leishman (M Jones 70), F Hastie (R Seydak 56), I Wilson, J McClean (L Govenlock 63), J Hill (C Marshall 56).
Ayrshire Bulls: M Davidson; E Caven (A Tait 60), R Beattie (M Minogue 70), T Williams, R Nairn; T Jordan, H Warr (J Lanac 56); G Thornton, A McGuire (J Drummond 70), M Scott (R Sayce 73), E Bloodworth, T Everard (E Hamilton-Bulger 73), R Sweeney (G Wilson 63), Y Fantini, B MacPherson
Referee: David Sutherland
Scorers –
Heriot's: None
Ayrshire Bulls: Tries: Nairn 2, Tait, MacPherson; Cons: Jordan; Pens: Jordan 2.
Scoring sequence (Heriot's first): 0-3; 0-8; 0-11; 0-16, 0-18 (h-t) 0-23; 0-28.
Yellow cards –
Heriot's: Leishman
Man-of-the-Match: There were several contenders in the Bulls side – Elias Caven and Robbie Nairn in particular, stood out – but the key man in orchestrating affairs was Tom Jordan.
Talking point: After taking time to find their feet, Bulls appear to be improving week by week and they now look very much like title contenders.
All picture credits to Calum MacKenzie @hmfcalum