Heriot's Rugby Super6 Head Coaches, Stuart Edwards and Fin Gilles have unveiled their squad ahead of the FOSROC Super6 Championship, beginning next week.
The first game of the championship for Heriot's Rugby is away to Ayrshire Bulls at Millbrae on Friday, 5 August with kick off at 7.45pm.
Many of the Heriot's Rugby squad played in the second FOSROC Super6 rugby season during 2021/22.
The squad have been preparing for the upcoming season since June after a few weeks rest following the Sprint Series.
Fin Gilles said: "After a brief but productive offseason, we can't wait to get into the Super6 Championship. There have been challenges to get to this point, but we are here now and we can't wait for the rugby to start.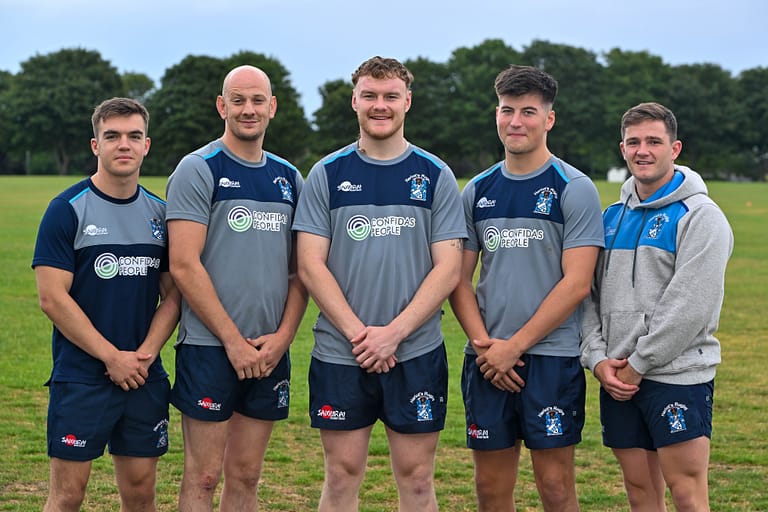 ''We are excited to welcome some new players to Goldenacre (Fraser Jones, Joey Britton, Dan King and Kyle Browne) and it's great to have more players graduating from the Heriots Blues Men's team with the experienced Rory Steele also signing.
''The fun starts now with a trip to Millbrae to take on the Ayrshire Bulls. After a disappointing Sprint Series this is a big chance for us, and we can't wait to get into it."
The upcoming season sees several Heriot's Blues Men players moving from the amateur side to the part-time professional league.
Heriot's Rugby players took part in the pro-alignment game for Edinburgh at the end of the Spring Series, as the FOSROC Super6 bridges the gap between the club and professional game in Scotland.
Several Super6 players have featured for Edinburgh and Glasgow over the last 18 months as the pathway continue to develop.
Heriot's Rugby Captain, Ruairidh Leishman, said: "The whole team have worked really hard on and off the pitch over the Summer. Everyone at the club is looking forward to kicking off the championship season next Friday evening against the Bulls."
Heriot's Rugby have their first home game on Saturday, 20 August against Watsonians with kick off at 4.30pm. Let's #GetBacktoGoldie in style, with the first pre-match lunch of the season, Sponsored by Carbon Financial Partners.
| | | |
| --- | --- | --- |
| 1 | Chris Keen | PROP |
| 2 | Struan Cessford | PROP |
| 3 | Josh Scott | PROP |
| 4 | Euan McLaren | PROP |
| 5 | Michael Liness | HOOKER |
| 6 | Cameron Fenton | HOOKER |
| 7 | Sean Johnstone | 2ND ROW |
| 8 | Ronan Seydak | 2ND ROW |
| 9 | Fraser Hastie | 2ND ROW |
| 10 | Ruairidh Leishman | 2ND ROW/BACK ROW |
| 11 | Joey Britton | BACK ROW |
| 12 | Jack Mann | BACK ROW |
| 13 | Iain Wilson | BACK ROW |
| 14 | Lewis Govenlock | BACK ROW |
| 15 | Callum Anderson | BACK ROW |
| 16 | Murdo McAndrew | SH |
| 17 | Jed Gelderbloom | SH |
| 18 | Bruce Houston | SO |
| 19 | Robert Kay | CENTRE |
| 20 | Nyle Godsmark | CENTRE |
| 21 | Kyle Browne | SO/CENTRE |
| 22 | Sam Pecqueur | WING |
| 23 | Rory Steele | CENTRE/WING |
| 24 | Fraser Jones | FB/WING |
| 25 | Dan King | FB/SO |
| 26 | James Couper | FB/WING |
| 27 | Ross Jones | FB/SO |
| 28 | Ben Evans (STAGE 3 Contracted Academy Player)  | CENTRE/WING |
| 29 | Matt Russell (STAGE 3 Contracted Academy Player)  | STAND OFF |
| 30 | Nathan Sweeney (STAGE 3 Contracted Academy Player)  | FULL BACK |
| 31 | Dan Gamble (STAGE 3 Contracted Academy Player)  | PROP |
| 32 |  Jacob Henry (STAGE 3 Contracted Academy Player)  | WINGER |
Photography Credit: Calum Mackenzie Photography