Heriot's Rugby 15 v Southern Knights 36
DAVID BARNES from The Offside Line @ Goldenacre
A COMPOSED and clinical Southern Knights performance earned them a maiden win of this 2021 Super6 campaign, claiming a bonus point for good measure, against a Heriot's team who left themselves with too much of a mountain to climb after they failed to fire a shot in the first 30 minutes. 
When the hosts did finally click into gear, they looked sharp at times, but ultimately gave away too many penalties and have a damaging habit of compounding error on top of error. Two defeats from two outings so far isn't disastrous, but the pressure will be on when Heriot's visit Stirling County next Sunday.
Southern Knights, meanwhile, welcome their old sparring partners from Ayrshire to the Greenyards on Saturday, and will go into that match with a real bounce in their step.
"The really pleasing thing is that we've worked really hard this week [after drawing with Stirling County last weekend] and we've seen it transfer into the game," said victorious head coach Rob Chrystie. "It doesn't always happen as quickly as that.
"There is good belief in the group, there is good togetherness, and I think we can push on a wee bit more from here as well.
"We've been used to have 22 to 24 game seasons in the past so you can slip-up at some point and eventually get there, whereas with the way this competition is you probably don't have that many opportunities to get back, so it is good to get that first win under the belt."
Southern Knights won an early scrum penalty and had a slight edge in a scrappy opening 10 minutes, so deserved to take the lead on 10 minutes when Heriot's hooker Michael Liness conceded a penalty-try and picked up a yellow-card for coming in at the side to a derail a maul before it reached his team's try-line.
Five minutes later, Heriot's were pushed off their own scrum ball in a promising position on the Knights' 22, and play went straight up the other end for Jacob Henry to streak over on the left following slick handing from Jason Baggott, Dalton Redpath and Joe Jenkins.
An offside penalty in the middle park allowed Baggott to extend the away lead to 15 points, before Heriot's finally clicked into gear with a spell off free-flowing rugby which went all the way to the Knights' five metre line before a speculative offload inside from Jack Mann – a second minute replacement at No8 for the injured Jason Hill – went astray.
Not to be outdone, Knights broke back up field from their own line, with powerful centre Billy Wara – an English/Fijian former Sale Sharks academy player – leading the charge, and a penalty kicked to the corner set up another powerful close-range maul which culminated in hooker Russell Anderson flopping in for the try.
It wasn't looking good for the home side. They were 20 point down with 36 minutes played, but managed to claw their way back into the contest before the break.
First, they picked up a penalty in front of the posts when Liness was taken out during a wrestle for the ball and opted for the corner, from which the ball was shipped infield then returned to the left wing for Callum Young to dot down.
Then, with just 20 seconds left of the first half, they produced a brilliant 60-metre score, featuring strong running and excellent hands from Mann, Rory McMichael and Iain Wilson, with Stuart Edwards finishing off in style. Bruce Houston's conversion made it 12-20 at the turnaround.
Heriot's initially carried that momentum into the start of the second half, picking up an offside penalty which let Houston close the gap to five points, but then some sloppy play at the back from Ross Jones, followed in quick order by an offside penalty, handed Baggott three easy points for the visitors.
Two more penalties, for a high tackle and another offside, allowed Baggott to extend his team's lead to 14 points midway through the second half.
The game was slipping away from Heriot's but they weren't quite ready to hoist the white flag yet. They had an encouraging period during which replacement stand-off Nathan Chamberlain and Edwards at inside centre made full use of the width of the Goldenacre pitch, and it almost sent Young over in the corner, but a last-gasp tackle from Patrick Anderson pushed the winger into touch.
Redpath broke clear from the resulting line-out and hoofed a brilliant clearance 50 yards down field, then a good high take from Joe Jenkins and well-judged grubber pushed Heriot's right back to their own five-metre line, then Iain Moody did well to wrap up Heriot's line-out possession to earn his team an attacking scrum – all in the space of about 90 seconds ball in play time.
When Nyle Godsmark sent Patrick Anderson over for the bonus point try it was game well and truly over.
"We had a really poor start to the game, we didn't get to second phase from our first four set-piece attacks, and we didn't get going until about 35 minutes in, so from there we are always going to be on the back foot," lamented Heriot's head coach Andy Kelly.
"Our big thing at the moment is that our penalty count and execution is still letting us down. The penalty-count was high again and it's just simple errors, which should be easily fixed, but at the moment it is letting us down. We still have a bit of an issue with scrum that we have to address.
"The positive is that when we do get to three, four or five phases then the guys have got the ability, as we saw with Callum Young's try, but we just need to get our first three phase execution done.
"We're needing our first win and we're needing it soon."
Heriot's: R Jones; R McMichael, R Kay, S Edwards, C Young; B Houston (N Chamberlain 55), L Wheeldon (A Ball 75); C Keen (A Nimmo 55), M Liness (C Fenton  55), D Gamble (S Cessford 41), R Leishman (A Sinclair 55), R Seydak (C Marshall 55) , I Wilson, J McLean, J Hill (J Mann 2) (C Fenton 15-22).
Southern Knights: J Jenkins; P Anderson, B Wara (C Scott 47), N Godsmark, J Henry (K Clark 74); J Baggott, M McAndrew (C Jones 75); S Gunn (G Shiells 47), R Anderson (F Renwick 66), M Wilson (E McLaren 47), A Runciman (H Borthwick 66), D Suddon, D Redpath, H Morris (A Ferrie 74), I Moody.
Referee: David Sutherland
Scorers –
Heriot's: Tries: Young, Edwards; Con: Houston; Pen: Houston.
Southern Knights: Tries: Penalty Try, Henry, R Anderson, P Anderson; Con: Baggott; Pen: Baggott 4.
Scoring sequence (Heriot's first): 0-7; 0-12; 0-15; 0-20; 5-20; 10-20; 12-20 (h-t) 15-20; 15-23; 15-26; 15-29 15-34; 15-36.
 Yellow cards – Heriot's: Liness (12mins)
Man-of-the-Match: Jack Mann put in a power of work with the ball in hand off the bench for Heriot's, while there was several impressive performance in the away pack, but Southern Knights winger Jacob Henry marked his first game back after a lengthy lay-off with an Achilles tear by scoring a fine try and looked dangerous whenever he got on the ball.
Talking point: The rain held off meaning it was perfect conditions for a fast-moving and entertaining game of rugby enjoyed by a healthy crowd at Goldenacre – including Scottish Rugby Chief Executive Mark Dodson.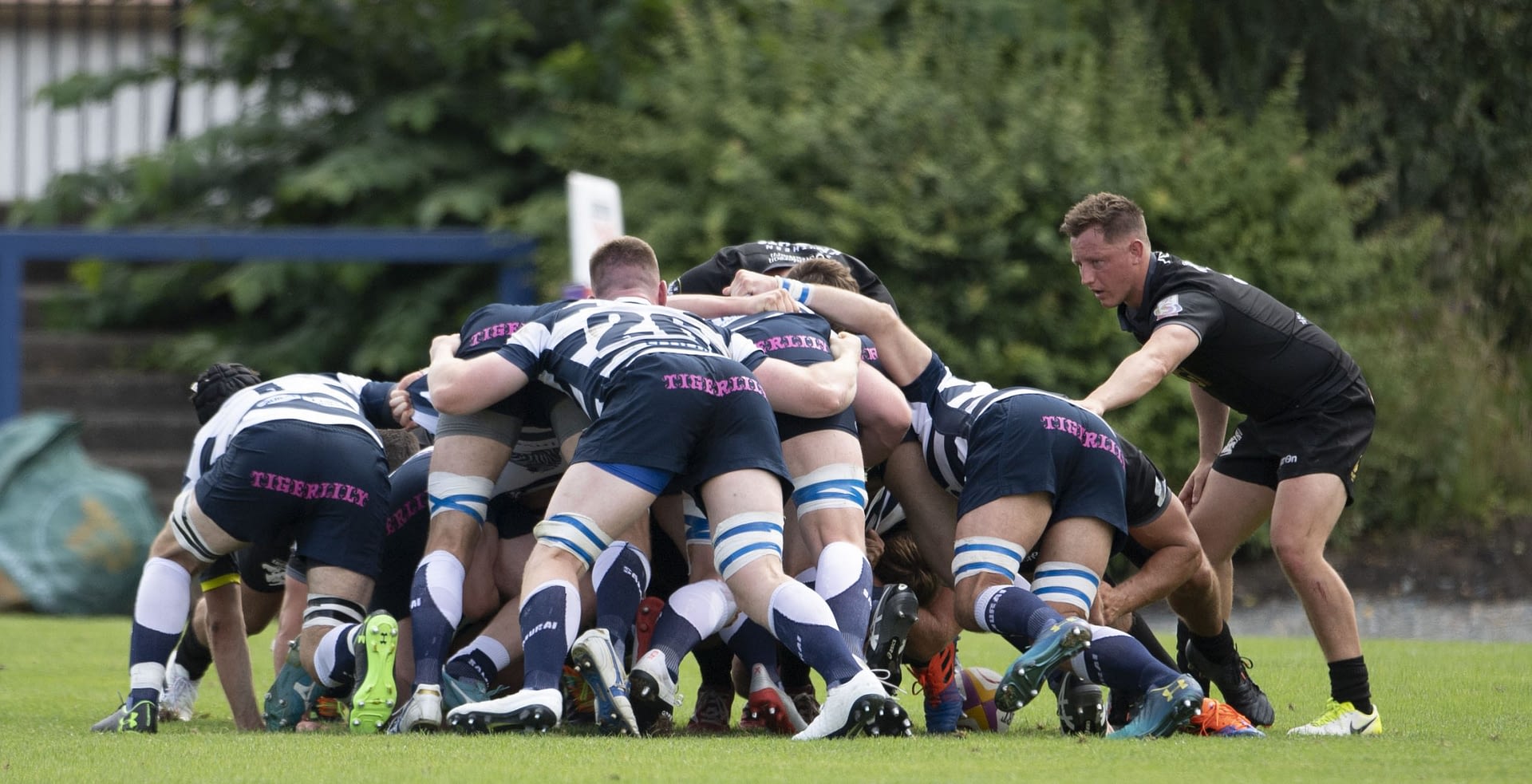 Photo Credits: SNS / Scottish Rugby