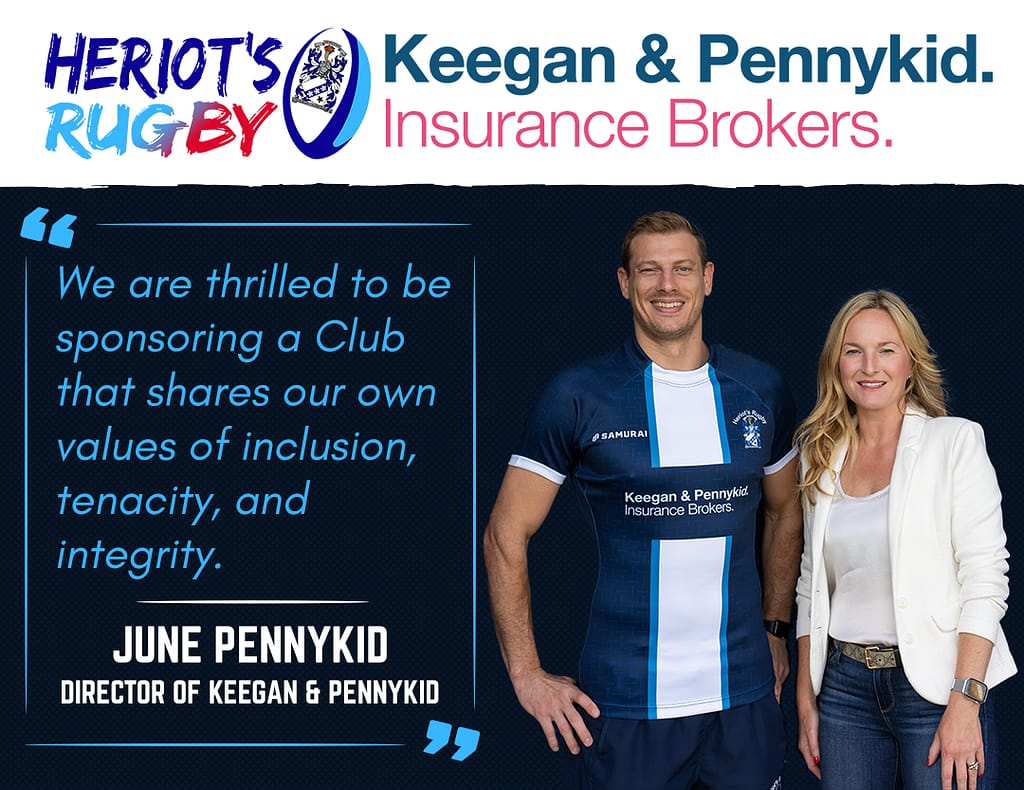 Heriot's Rugby announced a new sponsorship deal with Keegan & Pennykid while the team hosted at Goldenacre for their first home game of the 2023/24 FOSROC Super Series Championship.
Keegan & Pennykid is an independent, family-owned insurance broker business based in Edinburgh. Since 1968 they have gained a powerful UK-wide reputation as ethical and expert advisors to individuals, businesses, and the Third Sector.
Keegan & Pennykid is the latest addition to a growing group of sponsors at Heriot's Rugby Club supporting a pathway for boys and girls from the age of five to the senior team. They join Thistle Property, Investec, Littlejohns, Golden Acre Foods and Modern Standard Coffee as main sponsors investing in the future of Heriot's Rugby Club.
Heriot's Rugby Club Marketing Manager, Jo Dunlop said: "We are delighted to have Keegan & Pennykid as the principal sponsor of our Super Series team, Heriot's Rugby. Their continued support is very much appreciated and allows us to help field so many teams throughout the season."
June Pennykid, Managing Director of Keegan & Pennykid, said "We are thrilled to be sponsoring a Club that shares our own values of inclusion, tenacity, and integrity. We are doubly proud that Heriot's Rugby Club is the only Scottish club to have a part-time professional team with both a men's and women's
team playing at Premiership level.
If you would like to talk to an individual rather than a call centre about protecting what's important to you, Keegan & Pennykid can be contacted on 0131 225 6005 or on email enquiries@keegan-pennykid.com
If you have a business who are interested in finding out more about the sponsorship opportunities at Heriot's Rugby Club and what it can do for you, please get in touch with Jo Dunlop or 07597582353 or email marketing@heriotsrugbyclub.co.uk.
Photo credit: Simon Wootton Ecossephoto.com