Boroughmuir Bears 15 Vs Heriot's Rugby 13
DAVID BARNES – THE OFFSIDE LINE @ Meggetland
AN important step back towards normality for Scottish rugby, but as Craig Keddie – the home team's veteran back-row – wryly observed afterwards, we are indeed living in unusual times when Boroughmuir manage to hold out for the win in a tight game such as this.
The Meggetland men have had a habit in recent seasons of snatching defeat from the jaws of victory, but on this occasion they demonstrated the resilience required to get their 2021 Super6 campaign off to a flying start with a well-deserved win.
It did take a little bit of good fortune, with Heriot's stand-off Bruce Houston hitting the woodwork in injury time as he attempted to tie the scores, but overall the hosts were deserving winners.
"We're really pleased with the performance, we controlled a lot of the game in terms of possession and territory, and it would have been hard to take a draw out of that because I think we did enough to deserve the win," said victorious head coach Graham Shiel afterwards.
It was rough and ready at times, as you would expect after 16 months without competitive rugby, but the physicality and intensity displayed by both sides more than compensated for the inevitable errors.
"The guys have worked really hard and the players who have come in have got a similar work ethic to the ones who were here already, and that has been reflected in our training, in our pre-season games and it was clearly evident tonight," added Shiel.
"I'm sure there is improvements still to make but nobody can have faulted their hunger tonight. It is now about building on whatever small success we have, and it is another massive game for us next week away to Ayrshire Bulls, so we're not looking beyond that."
It got off to an inauspicious start when Bears winger Callum Ramm dollied the kick-off, but the hosts worked hard to retrieve the situation with a powerful scrum and some aggressive defence which prevented Heriot's from building momentum and eventually earned an obstruction penalty.
The Heriot's scrum has been a big weapon since Premiership days, but they found themselves under a lot of pressure early on here, and Boroughmuir's dominance was rewarded when a try-line bombardment yielded an offside penalty in front of the posts, which Tom Pittman had no problem turning into three points.
The home backs were looking lively, too, with man-of-the-match Kaleem Baretto sparking things from scrum-half, Ramm making amends for his earlier error by safely collecting a high ball under pressure, and former Edinburgh and Scotland full-back Tom Brown was a threat coming into the line.
It was frantic stuff, and pretty scrappy at times, but that is entirely understandable in the circumstances. On the plus side, the physicality was impressive, making it a full-blooded battle.
Heriot's did manage to level it 20 minutes in when Boroughmuir No8 Rory Drummond thought he had spotted a gap at the side of a ruck but ended up isolated, gifting Houston an opportunity to fire home the penalty from just short of halfway.
But Bears soon moved ahead again through a second successful Pittman shot at goal after Jack Mann conceded a penalty competing over the tackled man.
Heriot's were reduced to 14 men for ten minutes straddling half-time when referee Keith Allen lost patience and yellow-carded Cammy Fenton after another ruck had been illegal sabotaged, and Bears almost finished the half with a flourish through a sweeping passage of play in which Ronan Kerr, Baretto, Drummond, Pittman and Jordan Edmunds all featured prominently. Heriot's managed to hold Edmunds up over the line, leading the goal-line drop-out rule, which will only come into force globally on Sunday, being enacted for the first time.
Pittman then slotted a long-range penalty which made it 9-3 at half-time.
Boroughmuir started the second half as they had finished the first, and Edmunds soon had Heriot's in trouble with a rumbustious charge which took play deep into the visitors' 22, creating the platform for Pittman to knock over his fourth penalty of the night from another ruck infringement.
Stung into action, Heriot's finally managed to build some momentum, with their line-out clicking into gear. Boroughmuir loose-head Ross Dunbar was sent to the cooler for collapsing, and Heriot's went for the corner again, leading to Michael Liness spiralling off the back the maul and Lloyd Wheeldon finishing off the first try of the match, but Houston missed the touchline conversion.
The visitors then obliterated Boroughmuir at the next scrum and the hosts had to dig deep to weather the storm. A cross-field from Houston couldn't quite pick out James Couper on the right wing, then Boroughmuir perhaps got lucky when their back-pedalling scrum got the benefit of the doubt and Pittman was able to activate the pressure release valve.
It looked like Edmunds was going to score in the corner, but the pass from Pittman floated agonisingly just beyond his reach. The hosts were, however, playing a ruck penalty advantage at this point, so at least Pittman was able to help himself to three more points which made it 15-8 with 14 minutes left on the clock.
The stand-off did, however, miss two further penalties during the course of the second half, and on another day that could have been costly, because Heriot's came back hard.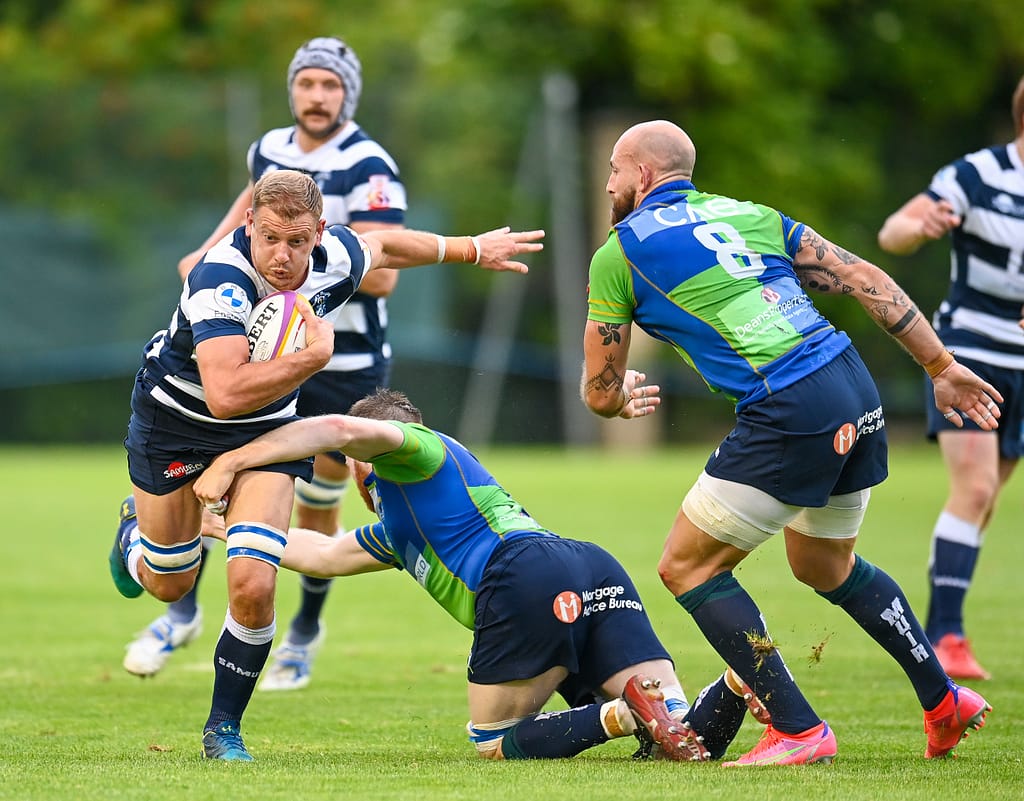 Callum Young threatened three times on the left wing (and on one of those occasions he fumbled the ball with the line at his mercy), but it wasn't until the game was deep into injury time that Heriot's got reward for all that pressure, when skipper Iain Wilson got the downwards pressure from another irresistible line-out drive. That made it a two-point game and Houston had an opportunity to square it with a tricky conversion, but he hit the woodwork.
"It was a poor start from us and we just never got a foothold in the game," said Heriot's head coach Andy Kelly. "I think it probably started up-front with our set-piece and a huge penalty count, and you are never going to win a game of rugby giving away that many penalties.
"Boroughmuir brought exactly what they were going to bring. They were committed to the battle, they were tough, and they competed with us and won the battle up front. They stuck in the game and credit to them they deserve it."
Teams –
Boroughmuir Bears: T Brown (K McGhie 52); J Edumnds, R Kerr (G Faulds 40, (G Cave 51), R McCallum, C Ramm; T Pittman, K Barreto; R Dunbar, C McKenzie, D Winning (A McWilliam 75), E Stewart, J Fisher (E Ferrie 60), C Keddie, S McGinley (R Tait 54), R Drummond (T Andrews 60).
Heriot's: R Jones; J Couper (S Edwards 59), R McMichael, R Kay, C Young ; B Houston, A Bell (L Wheeldon 40); A Nimmo (C Keen 54), C Fenton (J Hill 44), J Scott (S Cessford 40), R Leishman (R Seydak 57), C Marshall (F Hastie 75), I Wilson, J McLean (M Liness 38), J Mann.
Referee: Keith Allen
Scorers –
Boroughmuir Bears: Pens: Pittman 5.
Heriot's: Tries: Wheeldon, Wilson; Pen: Houston.
Scoring sequence (Boroughmuir first): 3-0; 3-3; 6-3; 9-3 (h-t) 12-3; 12-8; 15-8; 15-13.
Yellow cards –
Heriot's: Fenton (34mins)
Boroughmuir: Dunbar (48mins)
Man-of-the-Match: It was a real team effort but Kaleem Baretto controlled the shape and tempo of the game well from scrum-half, kicked smart, and was also a threat with ball in hand when he got the opportunity.
Talking point: The physicality of both teams and the pace they played at was impressive, and composure will surely come as the players get back into the groove.