Heriot's 31 – 21 Boroughmuir Bears
HERIOT'S will have home advantage in Saturday's fifth/sixth place FOSROC Super6 play-off after getting the better of their Edinburgh rivals in what was effectively the dress rehearsal for that match. The sides produced more of the rugby that has been a feature of their performances so far, with Bears playing an unstructured game that makes them entertaining to watch and difficult for opponents to defend against, while Heriot's were well-drilled and more reliant on their power up front, choosing to deploy the undoubted pace behind the scrum more selectively. The outcome was eight tries, some good quality rugby and a result that was decided only in the dying seconds.
For Heriot's coach Andrew Kelly, it was a mixed bag, but overall he was satisfied with the outcome, saying: "I think we played well, but so did the Bears. We had a poor first 20 minutes and the Bears capitalised on that but then we did really well and dug our way out of it. I would have liked to see us kick on a bit, but they're a good team and they kept in the game."
He is now looking forward to the rematch, adding: "We'll look at the video and see where there are opportunities, and also where we went wrong. We'll try and fix a few things, see where we went wrong, try and pressure them and finish on a high."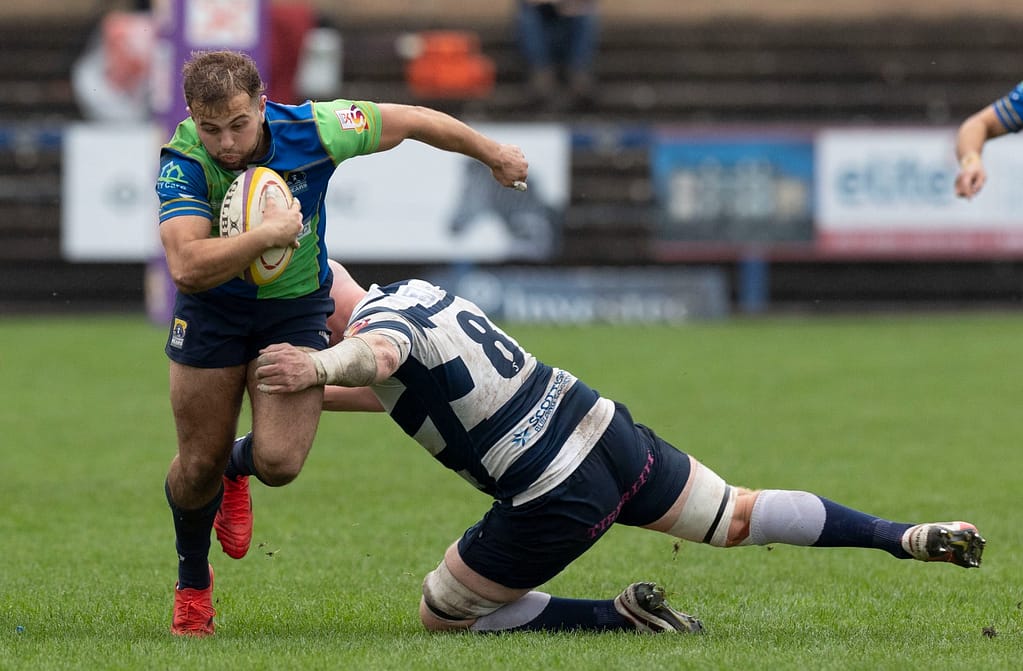 There was a hint of déjà vu for Bears coach Graham Shiel, with the negatives outnumbering the many positive aspects of his team's performance.
"It's the story of our season a bit," he reflected. "We beat ourselves again – two interception tries, overplaying a bit in the middle of the pitch that gave them field position to mount attacks.
"A lot of it lies in our own control. It's about not making those errors and applying pressure when we get the opportunity. Overall, I think we've done some really good things this season, but it's punctuated by some errors and some untidy play, and ultimately that has cost us in a number of games."
The afternoon had started well for the visitors and, after four minutes of settling in, the first attack of note from either side produced their first points. Jordan Edmunds darted clear and broke one tackle then shunted back another attempt to halt him before feeding inside to Robbie McCallum, who raced over. Martin Cimprich extracted full value when he booted the conversion.
Bears crossed the whitewash a second time following a driving maul, but home prop Michael Jones rescued Heriot's by holding up the attacker. However, the score was only delayed briefly and came following the latest in a string of penalties. Recycled ball was moved out to Rhys Tait, who looked to have been tackled, but kept pumping his legs and shrugged off the attentions of two defenders to dot down. Cimprich again added the extras.
Heriot's belatedly gained a foothold in the match but squandered a penalty, then were called back when a pass that freed Ben Evans was adjudged forward. However, the momentum had turned and a penalty despatched into touch produced a well-worked score. Callum Marshall gathered the throw and a powerful surge allowed Jason Hill to plunge over, with Bruce Houston's conversion trimming the deficit to seven points.
The same move appeared to have produced a second Heriot's score after Iain Wilson forced his way over, but he knocked on in the process. However, Bears were driven back at the ensuing scrum and Ruairidh Leishman picked up and dived over. Houston's conversion from wide on the left scraped over the bar to leave the scores tied at half-time.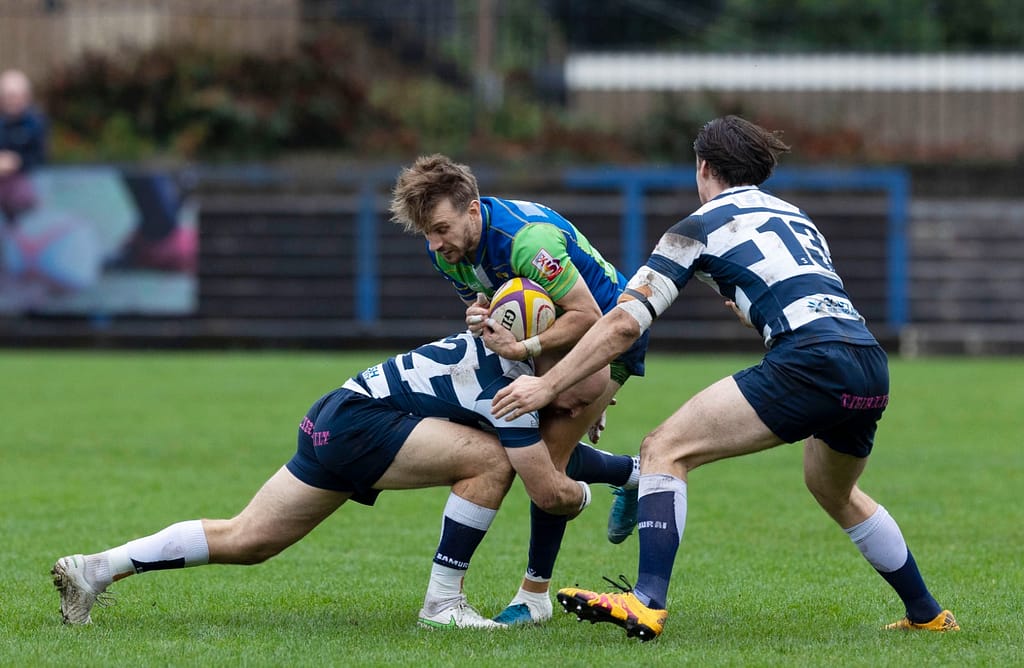 With Heriot's having more forward power, Bears had to be clever at the set-piece, and they showed they had plenty of nous at a scrum inside opposition territory. A quick strike allowed Kaleem Barreto to feed Cimprich, who in turn enabled McCallum to run into space before setting up Edmunds, who raced round behind the posts and left Cimprich a simple conversion.
The bonus point was now in sight and as Bears pressed for the fourth score their loose style proved expensive as Houston latched onto a pass destined for Edmunds and won a head-to-head sprint against Cimprich, who nevertheless forced his opposite number wide, taking the conversion out of range.
Heriot's ratcheted up the pressure and secured the bonus point score from a drive following a close range line-out, that ended with Michael Liness dotting down.
That meant Bears had to throw caution to the wind and their cause was helped when the referee showed Callum Young a yellow card for a dangerous tackle on Edmunds. However, as the visitors chased the game, James Couper pounced on a loose pass and darted clear then fed Ross Jones, who drew in two defenders then chipped ahead for Alex Ball to gather and score. Houston's conversion confirmed that Bears will now make a repeat trip across the city next Saturday to decide which of the pair occupies the basement slot in the tournament.
Teams –
Heriot's: R Jones; B Evans (J Couper 40), R McMichael, S Edwards, C Young; B Houston, L Wheeldon (A Ball 55); M Jones (A Nimmo 55), M Liness, D Gamble (J Scott 60), C Marshall (R Seydak 55), F Hastie, R Leishman, I Wilson (captain), J Hill (J McClean 65).
Boroughmuir Bears: T Brown; C Ramm, D Munn, R McCallum, J Edmunds; M Cimprich (K McGhie 72), K Barreto (M Johnstone 75); R Dunbar (C Lamberton 50), C McKenzie (F Scott 60), M McGinley (S Habib 75), J Fisher, E Ferrie, C Keddie (M Mncube 60), R Tait, T Andrews (S McGinley 72).
Referee: F Brown
Scorers –
Heriot's: Tries: Hill, Leishman, Houston, Liness, Ball; Cons: Houston 3
Boroughmuir Bears: Tries – McCallum, Tait, Edmunds; Cons – Cimprich 3
Scoring sequence: (Heriot's first): 0-5; 0-7; 0-12; 0-14; 5-14; 7-14; 12-14;  14-14 (h-t) 14-19; 14-21; 19-21; 24-21; 29-21; 31-21.
Yellow cards  –
Heriot's: Young
Man-of-the-Match: Official Man of the Match was Boroughmuir Bears 12 – Robbie McCallum
Gallery Images Credited to 39 Design Photography