STEPHEN BRUNSDON from The Offside Line at Goldenacre
AFTER falling to a home defeat last weekend, Heriot's bounced back with a convincing seven-try victory over Stirling Wolves at Goldenacre. But despite his side nearly hitting the half-century on the scoreboard, victorious co-coach Finlay Gillies was left rueing a stuttering performance either side of half-time.
"If we're being honest, I'm happy with the result but that doesn't mean I am happy with the performance necessarily," he said "The massive bonus for us now is that everyone in our squad has played a game, everyone's had an opportunity. Some took that opportunity, others might have been disappointed, but I told the players that it was a 5 out of 10 performance with work to do."
Last weekend, Heriot's had difficulty breaking the defensive line with ball in hand, but the same could not be said about the home side's opening quarter as they tore into Wolves from the start. Their cause was helped, though, by Stirling's early indiscipline, which allowed Heriot's to camp deep in Wolves' half before winger Fraser Jones goose-stepped his way over for the first try after seven minutes. Bruce Houston's conversion was good, and Gillies' troops led 7-0.
Heriot's doubled their advantage almost immediately after the restart, with Edinburgh pro Freddie Owsley making a superb surge up his left wing before prop Euan McLaren got close after a strong carry. Wolves then conceded another penalty, which Houston kicked to touch, and the subsequent line-out drive gave Murdo McAndrew the ideal opportunity to snipe over from five yards, with Houston adding the extras.
It wasn't a killer blow, but the visitors had certainly appeared somewhat punch drunk after a dizzying opening quarter of an hour. However, their response was equally as impressive. Starved of munitions early on, they were given something of a reprieve as try-scorer Jones was penalised for playing Craig Robertson in the air and, from the resulting five-metre line-out, hooker Gregor Hiddleston touched down in the corner.
Stirling looked dangerous with ball in hand. The only problem in the first half was that those opportunities were pretty rare. Notably, fly-half Euan Cunningham's line break just shy of the half-hour mark got the Wolves on the front foot, but even by then they were chasing the game.
Gillies was a left with mixed emotions approaching the half-time break. He had seen his side add a third score, courtesy of captain Ruairidh Leishman, just minutes after Wolves were reduced to 14 when back-rower Benedict Grant was sin-binned for repeated infringements. However, despite their healthy lead, Heriot's arguably could have had more of a buffer were it not for handling errors at key moments.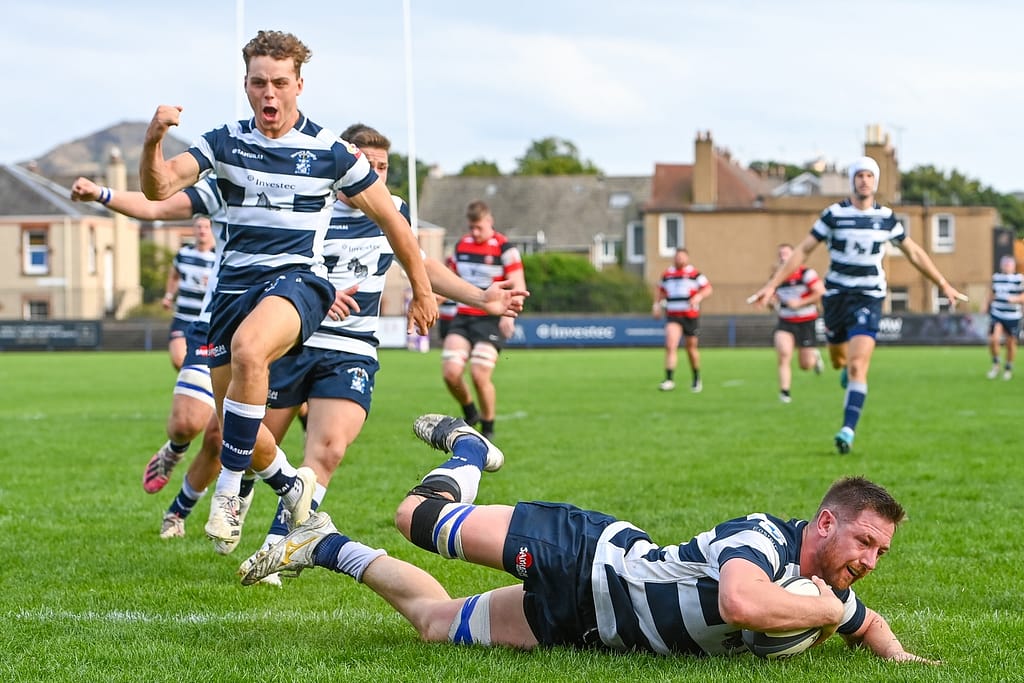 "I thought the first 20 minutes were great," explained Gillies. "We did everything we said we wanted to do during the week, got two early tries and took our chances. The middle 40 minutes, though, were very frustrating and we could have scored a lot more tries."
The fact that Heriot's fourth score came against the run of play was proof of Wolves' improvement at the start of the second period, but quick work from replacement scrum-half Jed Gelderbloom caught Stirling on the hop down the blindside before Leishman galloped in from 20 yards. Houston compounded the damage on Wolves with his third conversion.
Stirling were up against a solid Heriot's defence, but they did breach the line through out-half Cunningham mid-way through the second half. Ben Cairns' side made ground easily enough through the forwards but seemed to miss the crucial pass when required. Still, Cunningham's dexterity around the fringes of the ruck allowed him a straightforward try under the posts, which replacement Callum Beckett converted.
But this only papered over the cracks in what was a disappointing performance from Stirling, as two quick-fire Freddie Owsley tries – the first a sublime set-piece wraparound move and the second a cruel intercept with Wolves on the attack – buried the match as a contest. Adding the icing onto the cake was Gelderbloom, who raced clear of tired Wolves defence late on.
Four late tries from Heriot's was perhaps not fully representative of just how close the match had been at times, with Wolves head Cairns lamenting another slow start from his men.
"We talked about the start of the game being really important, but we weren't good enough today," he said. "We had too many penalties, were 14-0 down and then a sin-bin. I thought we showed some character in the middle third, which was really competitive, and we could have got back into the game. But we just gave away some really cheap scores at the end.
"It was closer than the scoreline suggested but we were always chasing the game and made far too many mistakes."
MOTM is Ruairidh Leishman (right) congratulated by Ross Jones (left)
Teams –
Heriot's: D King; F Jones, N Godsmark, R Jones, F Owsley; B Houston, M McAndrew; J Scott, M Liness, E McLaren, F Hastie, R Leishman, J Britton, I Wilson, L Govenlock. Subs: C Fenton, S Cessford, D Gamble, S Johnstone, C Anderson, J Gelderbloom, K Browne, R Kay.
Stirling Wolves: M Holden; L Jarvie, A Thom, C Robertson, C Jardine; E Cunningham, K Singleton; C MacMillan, G Hiddleston, G Breese, H Ferguson, A Sinclair, C Cruikshank, C Gordon©, B Grant. Substitutes: R Tanner, A Rogers, R Deans, H McLeod, J Hill, C Beckett, A Stirratt, R McKnight.
Referee: Ruairidh Campbell
Scorers –
Heriot's: Tries: F Jones, McAndrew, Leishman 2, Owsley 2, Gelderbloom; Cons: Houston 6.
Stirling Wolves: Tries: Hiddleston, Cunningham, Cons: Beckett.
Scoring Sequence (Heriot's first): 5-0; 7-0; 12-0; 14-0; 14-5; 19-5 (h-t) 24-5; 26-5; 26-10; 26-12; 31-12; 33-12; 38-12; 40-12; 45-12; 47-12.
Yellow Card –
Stirling Wolves: Grant
Man-of-the-Match: There were a number of stand-out players in the Heriot's side, but for pulling his team through a fairly stodgy 20 minutes either side of half-time and scoring a brace, it's captain Ruairidh Leishman who gets the award today. A strong work-rate off the ball in defence, and equally impressive carries got the hosts over the gain line again and again. Winger Freddie Owsley was also superb in attack and his pair of tries were deserved reward for his labour in the backline.
Talking point: Pretty simple. Heriot's made a blistering start and capitalised from Wolves' indiscipline perfectly. Their early 14-point lead proved enough of a safety margin to withstand Stirling's attempted comeback, and when Stirling began to tire they put a gloss on the result which will no doubt give Gillies, his coaching partner in crime Stuart Edwards and the players plenty of encouragement to take into next weekend.