STIRLING WOLVES 17 – 38 HERIOT'S RUGBY
IAIN HAY from The Offside Line at Bridgehaugh
INJURY and performance related woes continued for Ben Cairns at Stirling as slick Heriot's Rugby rode off into the sunset with a bonus-point win at a baking hot Bridgehaugh.
"It's a sense of déjà vu and I've just said to the boys we're just not giving ourselves a chance at the moment with the amount of mistakes that we're making" said the Wolves head honcho. "We got seven passages in their half in that first half and coughed it up within two phases. The only time we've scored we bypassed that due to a 50-22, then we try to create momentum in the second half and we make a mistake with the kick.
"We finished the game with 13 men on the pitch, we used all our subs up and then lost another two bodies, so it's going to be a challenge but the guys that have come in will do a job for us.
"We'll need to see where we lie on Monday but I've said to the group it ain't going to get any easier. I want us to come in really motivated in terms of our training and make sure we nail it.
"Confidence is a funny thing, it's easy when you're winning then it can snowball the other way so it's important we get the balance right between showing why we're losing games but almost use that as confidence to say if we cut out the silly errors and mistakes we can turn it round pretty quick."
In truth, the home side were second best in every aspect of the game. In the scrum, dominance was asserted midway through the first half with Heriot's Rugby winning penalties regularly and even on Wolves' feed. In one instance in the second half, Jack Mann – I might as well tell you now, he was the best player on the field – picked up from the base in his own 22 and charged into his opponents, such was their power advantage.
It was from the other set-piece – the line-out – which assisted Mann in bagging himself two tries – and he really should have had a third – all of which came from his settling in at the back of the maul with ball in hand as Heriot's Rugby kicked up dust from the dry earth and made metres with consummate ease. By the time he'd scored his first near the end of the opening half, Heriot's Rugby were well on top.
They had opened the scoring in the sixth minute, fittingly through their No 6 Lewis Govenlock. A bout of kicking ended with a loose one being returned by the dangerous left-winger Sam Pecqueur who had Govenlock inside him for a 25 metre dash to the line.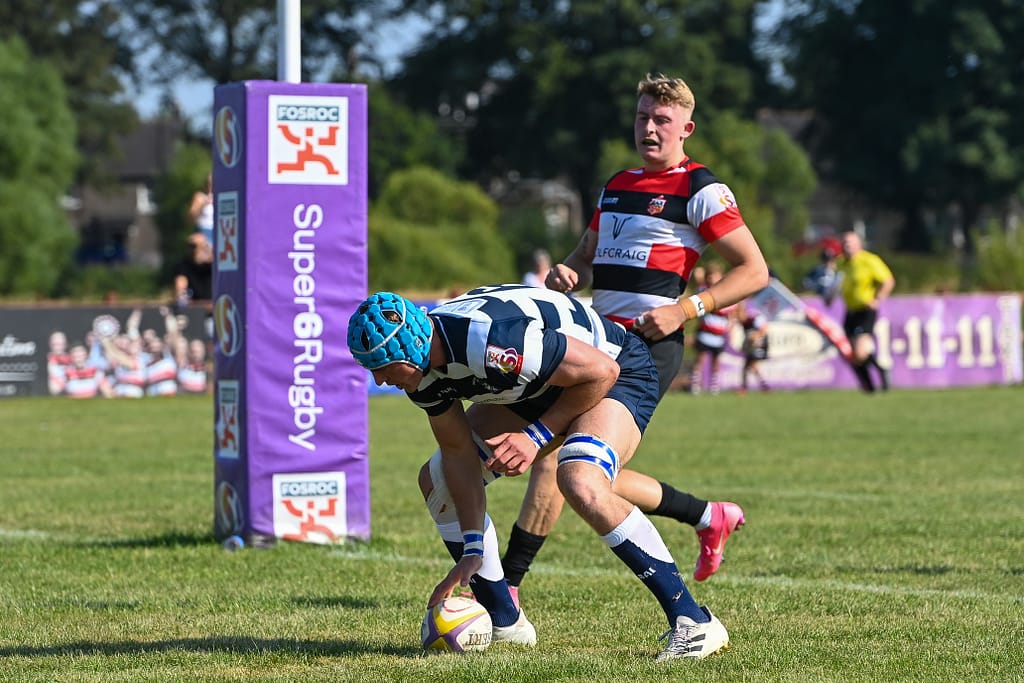 An excellent 50-22 kick by Gregor Christie allowed Tom Hiddleston to reply but as Cairns pointed out afterwards, they couldn't get momentum. On their next possession, opening try-scorer Govenlock got his hands on it at the breakdown.
Heriot's stand-off Bruce Houston was winning the tactical kicking duel, and although he was unfortunate to see one probing kick take a wicked bounce and go dead, he got a little bit of good fortune to set up the second score. His near-spill saw him cutting across the grain of the advancing Wolves' defence, Iain Wilson popped up on his shoulder and he fed Jed Gelderbloom for an easy walk-in.
After Mann's first try there was still time for Houston to smack over a penalty from near half-way for a 5-24 lead at half-time, much to joint head coach Stuart Edwards' chagrin as he saw the Wolves' jugular exposed and wanted to leap in for the kill.
It mattered not, although some profligacy did mean the score wasn't as big as it could've been. Rory Steele passed forward to Gelderbloom with the red carpet rolled out to the try-line, Govenlock was on his opposite shoulder and was probably the better option, Steel and Ross Jones then pulled off a Sexton-esque wraparound, only for Steele to be bundled into touch just a metre or two short.
With the sparky Gelderbloom off the pitch, his replacement Murdo McAndrew threw a pass which Euan Cunningham – who himself had just moved to scrum-half from stand-off – picked off and ran between the posts to give Wolves an unlikely chance of a comeback with the hour mark approaching, but it was that Mann again who killed off any chance of that happening with his second which sealed the try bonus point.
A powerful, arcing run from Wolves' full-back Logan Trotter saw him gallop into space, draw the last man and pass off to namesake Logan Jarvie to finish in the left corner, but the last slice of cake was saved for Steele who added the cherry on top and candles.
Five points away from home would usually be enough to sate the appetites of a visiting team but Fin Gillies still thought there was room for improvement.
"Do you know what was said there (in the post-match huddle)? We gave away three clear-cut scoring opportunities in the ten minutes after half-time, so we weren't ruthless enough – just a couple of percent off – to have a big score," said the Heriot's Rugby Head Coach.
"We're happy, but we have got some confidence in this group. We went to Ayr last week expecting to win; we come to Stirling this week, we expected to win. We play Watsonians next week and we expect to win. If we're not harsh on our own standards, and our own wee nuts and bolts, then we aren't going to be the best team in the Super6, and we have really high expectations for this group."
Teams –
Stirling Wolves: L Trotter; S Hamilton, A Thom, M Holden©, C Jardine; E Cunningham, G Christie; C MacMillan, G Hiddleston, L Skinner, J Pow, H Ferguson, C Cruikshank, C Gordon©, B Grant. Substitutes: R Tanner, J McKenna, G Breese, H McLeod, S MacDonald, C Beckett, C Jackson, L Jarvie.
Heriot's: D King; R Steele, N Godsmark, K Browne, S Pecqueur; B Houston, J Gelderbloom; C Keen, C Fenton, D Gamble, R Seydak, R Leishman©, L Govenlock, I Wilson, J Mann. Subs: M Liness, J Scott, S Cessford, F Hastie, J Britton, M McAndrew, B Kay, R Jones.
Referee: Jonny Perriam
Scorers –
Stirling County: Tries: Hiddleston, Cunningham, Jarvie; Cons: Holden.
Heriot's: Tries: Govenlock, Gelderbloom, Mann 2, Steele; Cons: Houston 5; Pens: Houston.
Scoring sequence (Stirling first): 0-5; 0-7; 5-7; 5-12; 5-14; 5-19; 5-21; 5-24 (h-t) 12-24; 12-29; 12-31; 17-31; 17-36; 17-38.
Player of the Match: I'm agreeing with the commentators for once, and we can call it the Jack Mann of the Match award for the Heriot's Rugby rampaging No 8.
Talking Point: Heriot's Rugby were arguably the most expansive and entertaining side in Super6 during the Sprint Series, but Gillies stressed after this game that they really pride themselves on their maul as well, and if today was anything to go by, the Goldenacre men look ready to make the step up.