We were saddened to learn of the death of former Heriot's FP and rugby player Charles Dunbar Bisset at the age of 78.
A former college lecturer, Head of Dept at the former Dunfermline College at Cramond.
Not someone you would readily miss, Charlie was quite a character, a former swimmer (his back stroke record stood for 40 years) as well as a climber, climbing with notable figures such as Dougal Haston and Hamish MacInnes.
A noted lineout jumper he played on many occasions for the 1 XV during the sixties forming a formidable partnership with Jimmy Simpson in the second row where the pack read Ross, Shand, Lawrie, Simpson, Bisset, McCracken, Palmer, Paterson.
In April 1963 he captained the victorious Heriot's F.P. team in the Goldenacre under-20 seven-a-side tournament a keenly fought and prestigious event at the time.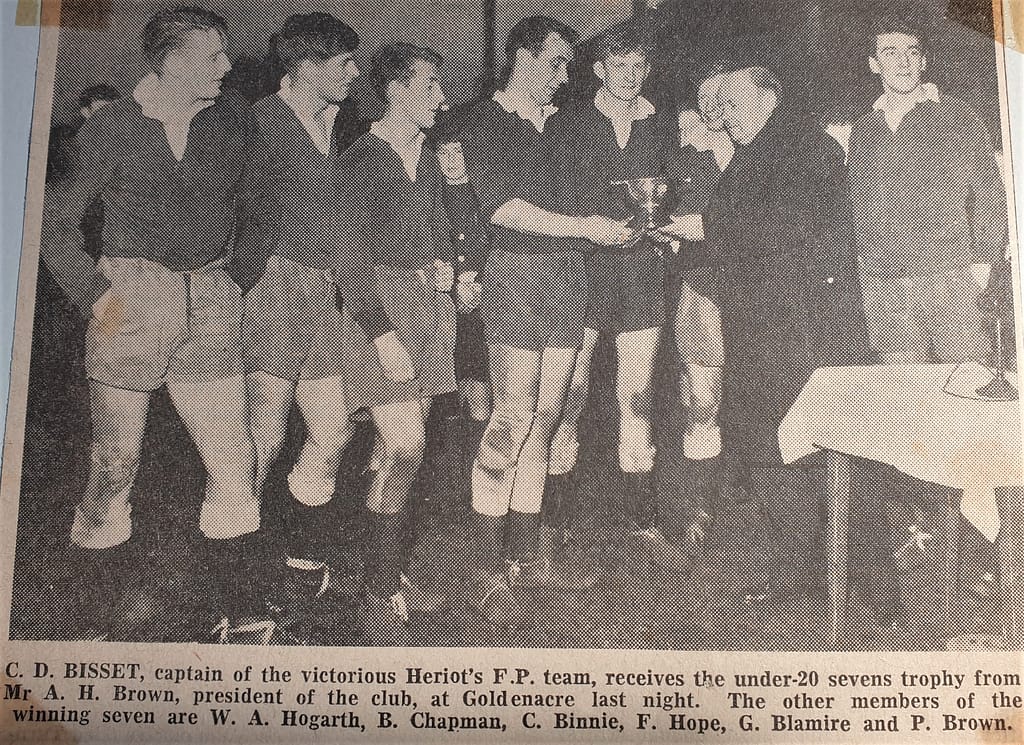 He played in many memorable matches the stand outs being a victory over Hawick in the New Year's Day game which featured an exchange of views between Charlie and Hawick, Scotland and British Lions prop Hughie McLeod and playing in the 75th anniversary game against a KJF Scotland International select from which Heriots emerged 14-13 victors.
Charlie also had the unique distinction of having played for the three (of four) Scottish districts Edinburgh, Glasgow and North and Midlands.
While at the SRU he was the driving force behind the 1992 World 7s tournament which was held at Murrayfield at the time the West Stand was being rebuilt, making the logistics more intricate.
He retired to the quieter environs of Newtonmore and no doubt kept the golf club members on their toes as club captain and secretary.
Our thoughts are with Charlie's family and friends at this time.