Ayrshire Bulls 17 – Heriot's 14

IAIN HAY from The Offside Line @ Millbrae
SUPER6 went from Fine Friday Night in Melrose to Soggy Saturday Afternoon down Ayrshire way, where the home side managed to squeeze past their visitors for a morale boosting win following last weekend's slip up at Stirling.
April seemed determined to get rid of any excess stock of showers before it has to wait another year, as a fine morning in the West coast turned increasingly wetter, but having held out for victory, it would take more than rain to dampen Peter Horne's spirits.
"I'm really pleased with the result because last week we dominated the game and came away with nothing because we weren't clinical enough," he said. "We spoke about that through the week – showing that resilience, if things don't go our way we move onto the next job – and I was so proud of the boys, their mentality was spot on."
"On days like this, mindset wins the day: you've got to scrap for everything, outwork the other team and I thought our boys did that. At 17-7 we had a lot of chances when we went to the corner and it didn't go our way, and then Heriot's did really well to get back into the game. They scored a cracking try and it was great to see the boys park it and move on. It was a real gutsy performance, and sometimes you've got to find a way to win ugly."
Previously unbeaten Heriot's had started the season in free-scoring form and within 90 seconds of kick-off, a dynamic midfield break from former pupil of George Heriot's School, Cammy Hutchison made it look like the visitors would be first trouble the scoreboard operator, only for full-back Ross Jones to knock on as the visitors tried to take advantage of numbers on the right.
Bulls started to gain a bit of a foothold, and after colliding with referee Keith Allan when coming in off his wing for a set-piece play, Elias Caven was given another bite at the cherry which he sunk his teeth into. With the Bulls' scrum starting to wheel, scrum-half Cam Jones went down the blindside, dropped the ball onto his toes and weighted an inch-perfect grubber kick which Caven beat Sam Pecqueur and the covering Bruce Houston to in the race to dot down.
Heriot's struck back almost instantly, Blair Macpherson spilling the restart to hand Heriot's the scrum put-in from which they won a penalty which went to the corner, openside Iain Wilson claimed the throw, No 8 Jason Hill bashed at the line, and blindside flanker Jack Mann got in to the breakdown first to pick and cross for a back-row union score.
Houston converted to nudge Heriot's ahead, however, almost as quickly as they had fallen behind, Bulls retook the lead. With players such as Edward Bloodworth, Rory Jackson and the giant Alex Samuel among their line-out options, Grant Stewart had a fairly easy afternoon with the darts, and after he hit Samuel about 10 metres from the line, it was fellow Glasgow Warrior front-row Tom Lambert in possession when the maul crossed.
A tidy score involving the backs was then finished by Aaron Tait with just half an hour played, at which point you might expect Bulls to burst clear as they so often do at home, but Heriot's were not going away and should have been within try-scoring distance on the scoreboard when Hutchison cross-kicked to lock Jamie Campbell who had found himself out on the left-wing, and although Ruairidh Leishman released Freddie Owsley, Stewart somehow managed to dislodge the ball from the Edinburgh winger's grasp with the try-line beckoning.
A dink from Houston, which saw both Pecqueur and Hutchison slide through one of the advertising board as they desperately tried to touch down, brought the first half to a close.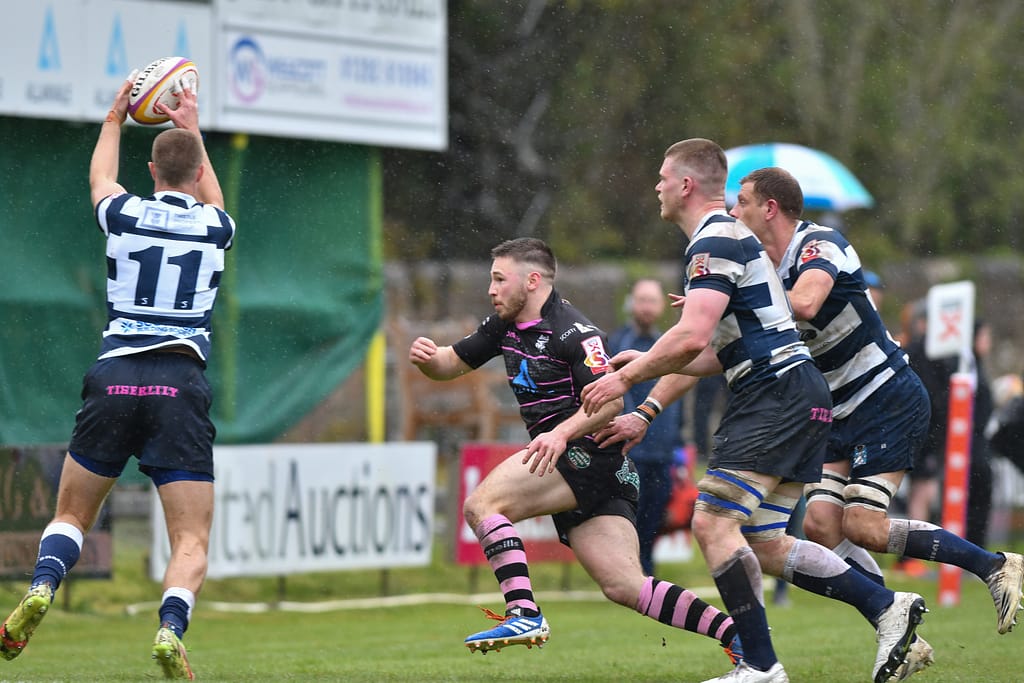 As attritional as it was wet, the stop-start nature of the game for medical time-outs made it hard for either side to find their rhythm in the second half, Bulls having the better of the kicking duel with a few going out on the full from Heriot's boots halting their progress.
Heriot's did get a half-chance when the Bulls made a hash of a line-out and Houston hacked ahead, but replacement Tom Lanni was covering in the full-back position.
Bulls then spurned a number of opportunities with good field position, and were counter-punched off a flowing move which James Couper finished off by stepping off his left and past the last man. All of a sudden, with 10 minutes remaining, Heriot's were in position to win this game, and it looked like it might be their day when Macpherson was penalised two minutes from time, but the line-out was overthrown and with it went Heriot's last real hope.
Despite coming close to toppling the current kings on their own turf, Andy Kelly couldn't help but feel it was a chance missed
"We're disappointed with how we played, I think our energy levels were poor and we didn't get any real control or footing in the game," he said.
"It's a great learning curve, the Bulls are a very good outfit. They punished us when we made mistakes – and they'll probably look at that and think they could have had more points – but we'll learn from that as we prepare for Watsonians next week."
Teams –
Ayrshire Bulls: Liam McNamara; E Caven, F Callaghan, T Jordan, A Tait; C Townsend, C Jones; T Lambert, G Stewart, M Scott, E Bloodworth, A Samuel, R Jackson, R Sweeney, B Macpherson. Subs: A McGuire, A Nimmo, C Henderson, Lewis McNamara, J Knight, E McAra, M Minogue, T Lanni
Heriot's: R Jones; S Pecqueur, N Godsmark, C Hutchison, F Owsley; B Houston, J Gelderbloom; C Keen, M Liness, E McLaren, R Leishman, J Campbell, J Mann, I Wilson, J Hill  Subs: D Hood, J Scott, S Cessford, F Hastie, R Seydak, M McAndrew, R Kay, J Couper.
Referee: Keith Allen
Scorers –
Ayrshire Bulls: Tries: Caven, Lambert, Tait; Cons: Townsend.
Heriot's: Tries: Mann, Couper; Cons: Houston 2.
Player-of-the-Match: For the second home match in succession for the Bulls, the stadium announcer called the name of Alex Samuel out but, again, I'm going to slightly disagree, and give the award to Grant Stewart.
Talking point: It looks like a number of players took sore ones. For Heriot's, starting props Euan McLaren and Chris Keen both came off ahead of schedule, Iain Wilson looked in a bit of pain when he came off, and for the Bulls, winger Eli Caven was withdrawn at half-time while outside centre Finlay Callaghan lasted only seconds of the second half with what looked like an arm injury. On the plus side for Bulls, though, Ryan Sweeney got near 60 minutes of rugby into his legs as he returned from a broken hand.
All images credited to George McMillan