HERIOT'S RUGBY 12 – 27 Watsonians
COLIN RENTON from The Offside Line at Goldenacre
WATSONIANS extended an impressive run of victories and tightened their grip on top spot in the FOSROC Super6 Championship with a bonus point success that underlined just why they have become so difficult to beat. The performance was built on the Myreside outfit's defensive efforts in the first half and their ability to profit from the scoring opportunities that came their way in the second period.
Acknowledging the competitive nature of the match, Watsonians coach Fergus Pringle said: "It was a tough game. I don't think we were bad in the first half, I just think we lost the kicking battle. We couldn't get territory. Credit to Heriot's, they kicked well and we weren't as organised. We talked at half time about playing in the right areas."
He also praised his players for their ability to adapt their style, adding: "We can play in slightly different ways and we have a few different strings to our bow. It's important to win big moments in the game and when you have done it, you become more confident. I thought Heriot's were very good and they are going to be up there."
In the home camp, co-coach Fin Gillies had mixed emotions, recognising that for 50 minutes his players had looked capable of winning.
"We're really disappointed but not at our efforts", he said. "From where we were last year to where we are now, I think we have kind of let the big boys know that we are here. That was our plan. Ideally we would have won, and at one point I thought it was a possibility.
"We maybe mismanaged the game a bit, but Watsonians are good. Where they are on their journey, they are better than us right now, but our growth potential means we can be real contenders."
The visitors resumed where they had finished the previous week and struck the first blow with four minutes on the clock when Lee Millar stroked over a penalty from 25 metres after the home defence had strayed offside.
Heriot's enjoyed the greater share of the possession over the rest of the first quarter, and crossed the opposition line, but Jack Mann was held up. However, the momentum was firmly with the hosts and they passed up a chance to square matters from a kickable penalty, Bruce Houston opting to go for touch but overhitting his kick.
Having survived that spell on defensive chores, Watsonians displayed their ability in attack, breaking out with some slick handling and capping a multi-phase effort when Rory Brand fired out a pinpoint pass for Lewis Berg to touch down in the corner.
The issue for Heriot's was their inability to break down the opposition defence and they repeatedly resorted to the boot. That tactic paid off a couple of minutes before the break when Mann made a powerful break and Houston took the recycled ball then chipped through for Dan King to complete the job, leaving the hosts three points adrift at half time.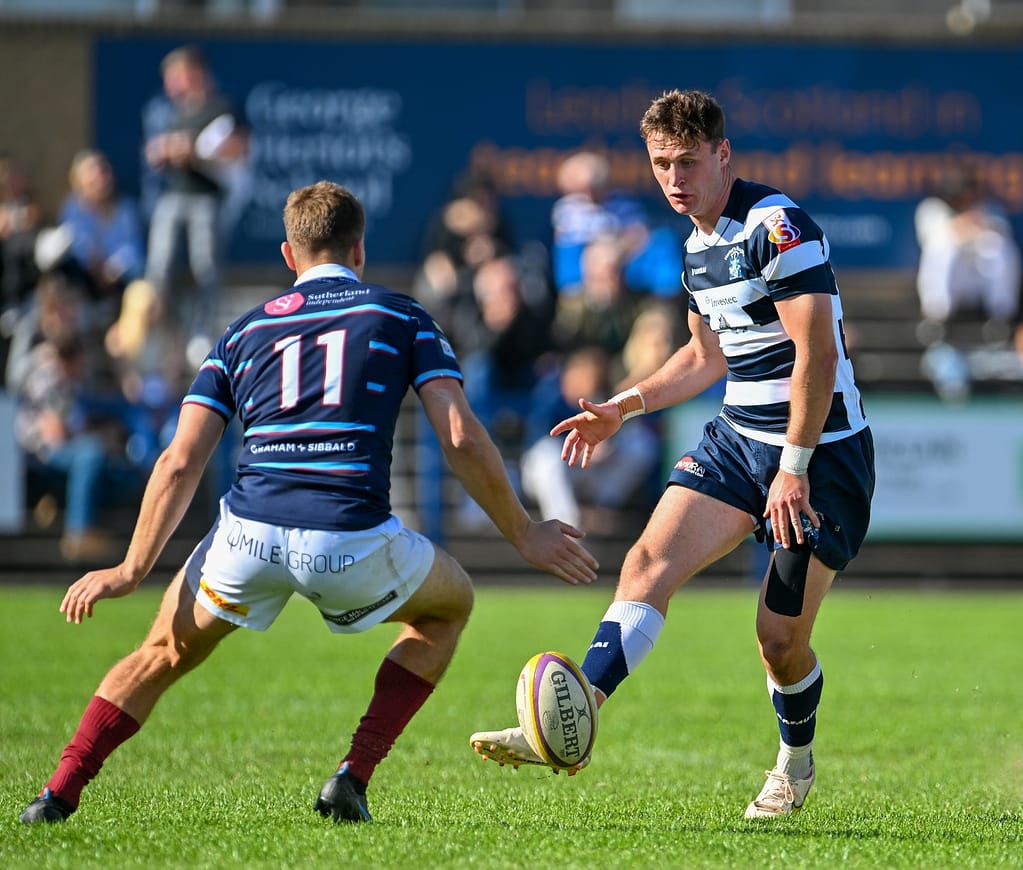 The home side seized the initiative shortly after the restart when Mann blasted through three tackles to finish in impressive fashion. Houston's conversion scraped over the bar for a four point lead.
The winning habit has become ingrained at Watsonians over recent months, and they retaliated with a slick handling move that saw Brand feed Joe Reynolds, who offloaded to Lomond MacPherson and the winger used a combination of pace and nifty footwork to hurtle over for an unconverted try that edged the visitors ahead once more.
The gap grew to double figures when Karl Main did the spadework for Jamie Berrisford to race over and claim a try converted by Millar. With Heriot's looking a beaten side, the only remaining question was whether their opponents could secure a bonus point score. Try number four duly arrived when Luis Ball ran at a ragged home defence and set up Berrisford for his second score, with Millar again converting.
Thanks to Carter Suttie for leading the home team out onto the field at Goldenacre.
Teams –
Heriot's: D King (R Jones 12-20); J Henry, N Godsmark, K Browne (R Jones 67), S Pecqueur (F Jones 25); B Houston, J Gelderbloom (M McAndrew 62); C Keen (J Scott 47), C Fenton (M Liness 40), D Gamble (E McLaren 47), R Seydak, R Leishman, L Govenlock (F Hastie 59), I Wilson, J Mann (J Britton 49).
Watsonians: H Paterson; L MacPherson (D Coetzer 75), L Berg, L Millar, A Guthrie; J Baggott (J Reynolds 45), R Brand (M Scott 70); H Courtney (G Scougall 78), C Davies, B Bratton (C Lamberton 57), L Ball, K van Niekerk (J Berrisford 57), S Cecil, K Main (C Wilson 75), I Moody (N Irvine-Hess 36).
Referee: Ian Kenny.
Scorers –
Heriot's: Tries: King, Mann; Con: Houston.
Watsonians: Tries: Berg, MacPherson, Berrisford 2; Pen: Millar; Cons: Millar 2.
Scoring sequence (Heriot's first): 0-3; 0-8; 5-8 (h-t) 10-8; 12-8; 12-13; 12-18; 12-20; 12-25; 12-27.
Commentators Man-of-the-Match: Lewis Berg of Watsonians
Talking point: Success breeds confidence, and it will take a very good side to halt a Watsonians outfit that is brimming with self-belief.