IAIN MORRISON from The Offside Line at Meggetland
WITH Goldenacre unavailable this game was played at Meggetland although Heriot's maintained their title as the designated "home" side, leaving the Bears as "visitors" in their own backyard.
The game started evenly enough for the first quarter but it finished horribly one-sided as Heriot's overcame some poor results, a lack of confidence and the loss of their coach Andrew Kelly midweek to finish ahead of the Bears on yesterday's scoreboard and, with the four-try bonus, ahead of them in the final Sprint table to boot.
The Bears scored the first try of the afternoon and the last but were pretty much overwhelmed in between times, unable to dominate any single area of the on-field action.
"There were a number of reasons behind that result," said Bears' coach Graham Shiel. "Heriot's would have a point to prove, but we were selecting from just 19 players this week after one Covid case, several U20's being called away and also injuries.
"The game at this level is very attritional so obviously we had to get players in from elsewhere and it showed today."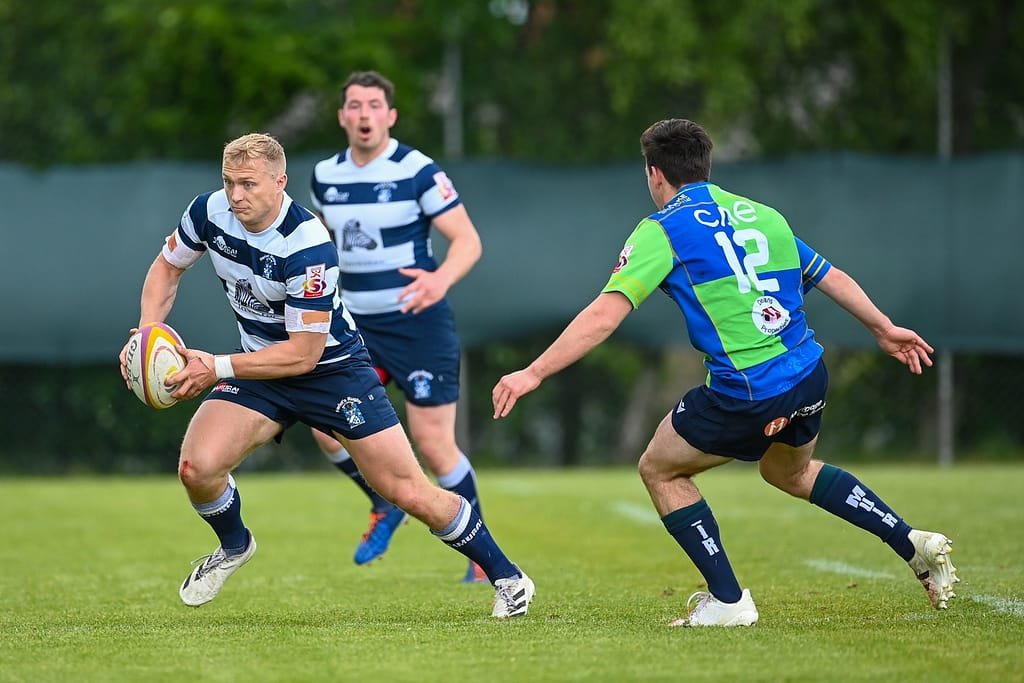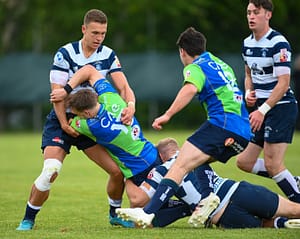 Heriot's fielded two Edinburgh professionals, centres Charlie Savala and Cammy Hutchison, both of whom made an impact, and they also  fielded a little more muscle up front and nous across the pitch. Bruce Houston looked the part at fly-half, converting four of his side's six tries, and he was ably aided by his partner Murdo McAndrew who was lively throughout.
But it was an old stalwart and sometime captain of Heriot's that grabbed the end-of-season headlines. Iain Wilson claimed a hat-trick of tries, all of which came in a 22-minute purple patch either side of half time. Several could have been scored by someone else but Wilson has the happy knack, shared by all good flankers, of being in the right place at the right time and it served him well at Meggetland.
Two of Wilson's scores and three of the Heriot's six tries came directly from lineout drives, an indication of their superiority in the grunt-and-grind department. Heriot's started slowly but grew in stature and confidence with every try.
The opening 15 minutes saw a series of missed chances, with Heriot's butchering two open goals compared to one for the Bears. Tom Brown was forced into a try-saving tackle on Heriot's nippy nine McAndrew as early as the seventh minute. A little later what should have been a scoring pass from Savala to Houston drifted forward.
The Bears' skipper Scott McGinley had already slipped, and lost the ball, with the line begging when the "away" side opened their account at Meggetland.
One attacking lineout was repulsed, but a second saw hooker Jerry Blyth-Rafferty come agonisingly close to scoring before lock Ewan Stewart barged his way over from inches out.
Sadly for the Bears it was a case of monkey see, monkey do, because Heriot's bounced back using the exact same tactic. Tighthead Ewan McLaren won a vital penalty in the middle of the pitch and, again, from the second attacking lineout, Heriot's marched the maul across the line with flanker Wilson winning the slaps on the back. Fly-half Houston edged his side into a two-point lead and belief began seeping slowly back into Heriot's souls.
A sweet, flowing  move saw Sam Pecqueur run the ball out of defence before offloading to McAndrew with fullback Ross Jones and Wilson both contributing before the Bears were forced to concede at the breakdown. From the attacking lineout it took Heriot's just three plays to score, Savala picking his line between two defenders and Houston again adding the extras from close range.
That gave Heriot's a 14-5 advantage that they kept to the break despite the game opening up for both sides in the final few minutes.
Heriot's started the second half with real intent. Savala and Houston combined beautifully in the midfield with the ten then stabbing the ball ahead. The Bears' scrummy Ruaridh Swann pounced on the bobbling ball just yards from his own line, but Heriot's soon won a turnover and had numbers to spare on the left with Wilson getting his second and his side's third touchdown of the afternoon with the second half less than two minutes old.
The same man struck again, getting his hat-trick just seven minutes after the break, this one from an attacking lineout, a carbon copy of his first try.
Heriot's exerted a vice-like grip on second-half proceedings, dominating territory as the Bears struggled with the billowing wind to exit their half. It was no surprise that Heriot's scored another just as the match moved into the final quarter, this one going to skipper Ruairidh Leishman, who took advantage of his forwards' superiority as Heriot's marched the Bears back over their own line from another attacking lineout.
Both sides emptied the bench although in the Bears' case this meant asking their replacement hooker, Loretto schoolboy Finn Duraj, to do a shift in the back row of the scrum.
And still Heriot's were not finished as a long miss pass from Houston found Sam Pecqueur in space on the left flank and still the winger had work to do, showing his athleticism to dive over in the corner for his team's sixth and final score of the afternoon with nine minutes left on the clock.
But the Bears have never lacked grit and there was still time for Adam Scott to enjoy the last word. The winger finished off a tidy move by the Bears before converting his own try to give the final score some remblance of respectability.
"It was a great way to end what has been a tumultuous week," said Heriot's acting coach Fin Gillies, who was only handed the reins along with Stuart Edwards in midweek after Kelly left the club.
"It's the first time I have been through something like that and I think that we, as a group, needed to take a serious look at ourselves. It is a huge responsibility and a great honour to play rugby for Heriot's and I think that perhaps we had lost sight of that, both players and coaches.
"And that was a nice way to end what has been a difficult season."
Heriot's: Jones (Kay 58); Godsmark, Savala, Hutchinson, Pecqueur; Houston, McAndrew; Keen, Liness (Dineen 63), McLaren (Gamble 48), Seydak (Johnstone 59), Hastie (Callum Anderson 53), Melbourne (Campbell 63), Wilson, Leishman (capt).
Boroughmuir Bears: Brown; A Scott, Kerr, Allan (Calum Anderson 73), Jenkins; Mercer (Hogg 58), Swann (M Johnstone 64); Smith, Blyth-Rafferty, M McGinley (Goodwin 52), Stewart (Mncube 53), Fisher, King, S McGinley (Capt), Andrews (Duraj 66).
Referee: Ian Kenny.
Scoring sequence (Heriot's first):  0-5, 5-5, 7-5, 12-5, 14-5 H-T, 19-5, 21-5, 26-5, 28-5, 33-5, 38-5. 38-10, 38-12.
Scorers:
Heriot's: Tries: Wilson (3), Savala, Leishman, Pecqueur. Cons: Houston (4).
Bears: Tries: Stewart, Scott. Con: Scott.
Man of the Match: Either Heriot's half-back, Murdo McAndrew or Bruce Houston, could have won this award for their notable contributions. But it is impossible to look beyond hat-trick hero Iain Wilson who, quite apart from his scoring, was his usual industrious self around the park.
All images credited to Calum Mackenzie Photography