Heriot's Rugby 41 – Southern Knights 24
Match Report by COLIN RENTON from The Offside Line @ Goldenacre
HERIOT'S RUGBY delivered a solid opening performance to get the campaign off to a winning start and complete a full house of home successes in the first round of the 2022 Super6 Sprint Series fixtures. The Goldenacre men were solid in the set-piece and defence at key moments against a Knights outfit that played some good rugby, and remained in the contest until the final 10 minutes, but lacked the all-round cohesion of the hosts.        
"It's a great start to our campaign, to score 41 points," said Heriot's coach Andrew Kelly. He was delighted at the way his new look squad has come together, adding: "We had areas that we needed to strengthen and I think we've made those improvements. Also, the guys who were here last season are quality players and the squad and the team has gelled quite well. We want to kick on from this."
Kelly's Southern Knights counterpart Bruce Ruthven believes the areas that contributed to the defeat will be easily addressed in the short term, and he remains upbeat.
"We knew it would be a tough shift but we'll stay positive. There's a lot of good learnings, individually and collectively. We put ourselves under too much pressure in the first half and the tries we gave away were pretty soft," he suggested. "We probably gave away too many penalties. Heriot's were strong in the set-piece, and ultimately they are going to use that to their advantage. They played well."
The hosts edged ahead after two minutes when Bruce Houston stroked over a close-range penalty, and they stretched the gap when Michael Liness picked out Jack Mann with a well-timed pass that freed the flanker to race over from 40 metres. Houston's successful conversion took the home tally into double figures.
The first visit to opposition territory by Knights yielded a run of three penalties that ended with a driven line-out that saw Fraser Renwick dot down for an unconverted score.
Heriot's responded in kind, when Houston banged a penalty into touch 10 metres from the opposition line and a powerful surge ended with Jason Hill dotting down. Houston was again on target to add the extras.
Another penalty despatched into touch was also the root of the second try for Knights after half an hour. This time the maul was unsuccessful, but a series of pick-and-go efforts ended with the ball being flung out wide to Cameron Scott, who jinked neatly past the final defender to score, and leave Nathan Chamberlain a straightforward conversion.
The Heriot's response was instant and, after Sam Pecqueur carried into contact, Murdo McAndrew fired out a looping pass to Mann, who powered over for a second time. Houston thumped over the conversion to leave Heriot's 24-12 ahead at the interval.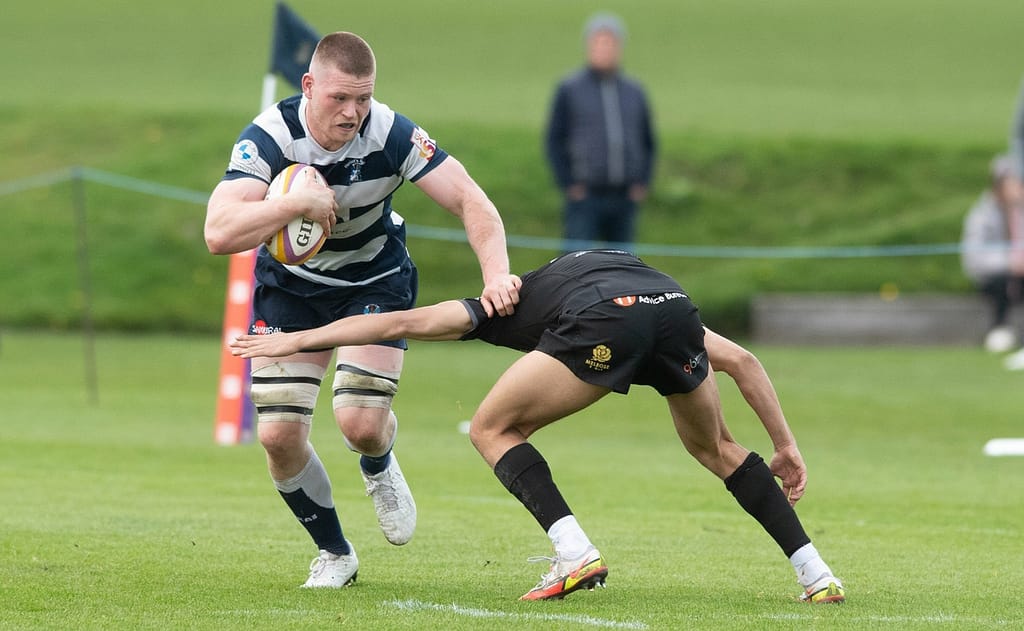 The home side moved a further three points clear seven minutes after the restart, when Houston maintained his immaculate record with the boot to kick a 35-metre penalty. Knights responded with a try, which came after Scott unlocked the home defence with a clever chip and Patrick Anderson reacted quickly to gather and touch down. Chamberlain's conversion cut the deficit to eight points entering the final quarter.
Both sides introduced fresh legs and that appeared to give Heriot's superiority up front. That was evident in a scrum in front of the Knights' posts that was reset before a powerful drive at the next time of asking led to a penalty try that gave the hosts the bonus point.
The visitors ensured they were still in the game when they clawed back five points with the bonus point try for Bruce Riddell, who scampered over after being released by a Callum Grieve pass.  However, any lingering doubts over the outcome were extinguished inside the final 10 minutes when Cammy Fenton plunged over from close range after another spell of pressure, and Houston again converted.
Both coaches know that there is little time to dwell on the opening performances, and they will now switch their focus to next weekend's matches. With that in mind, Kelly wants to accentuate the positive aspects of an impressive showing, but is not setting goals in terms of the tournament.
"Our main goal for the Sprint is performance. We want to make sure that every game we play in we have good performances. We haven't talked about winning games here and there or whatever, we are just focusing on the performance and playing well," he said.
Ruthven sees his task a longer-term project: "The belief will come in time. We have so many new players, it's going to take time to gel."
Teams –
Heriot's Rugby: R Jones; J Couper, N Godsmark, L Armstrong, S Pecqueur; B Houston, M McAndrew; C Keen, M Liness, E McLaren, R Leishman, F Hastie, J Mann, I Wilson, J Hill. Subs: C Fenton, J Scott, S Cessford, J Campbell, R Seydak, J Gelderbloom, F Campbell, G Tait.
Southern Knights: K Clark; P Anderson, P Eti Slater, C Scott, B Wara; N Chamberlain, M Redpath; G Shiells, F Renwick, I Brace, D Redpath, D Suddon, R Knott, A Ferrie, H Borthwick. Subs: C Bowker, R Anderson, B Riddell, W Nelson, R Brown, B Afshar, I Sim, C Grieve.
Referee: R Mabon
Scorers –
Heriot's: Tries: Mann 2, Hill, Penalty; Cons: Houston 3; Pens: Houston 2.
Southern Knights: Tries: Renwick, Scott, Anderson, Riddell; Cons: Chamberlain 2.
Scoring sequence (Heriot's first): 3-0; 8-0; 10-0; 10-5; 15-5; 17-5; 17-10; 17-12; 22-12; 24-12 (h-t) 27-12; 27-17; 27-19; 34-19; 34-24.
Player-of-the-Match: There was an impressive contribution from the Heriot's half-backs. Bruce Houston's immaculate boot made him a strong contender, and Murdo McAndrew showed excellent game management, but flanker Jack Mann gets the nod for an impressive all-round showing that included two of his side's five tries.
Talking point: The squad lists suggest that the focus of all six franchises during the close season has been on offering a progression for home-grown talent rather than a pay day for overseas players. That appears a better reflection of the purported aim of Super6, and hopefully the tournament will evolve along those lines over time.
All images credited to Mark Scates of SNS