Heriot's Rugby Super6 players Scott King and Duncan Hood are training hard for the opportunity to be selected for the rescheduled U20 Six Nations Championship in June.
This month both attended the two U20 Six Nations training camps at Oriam as part of a 41-player extended squad.
The Scottish Rugby FOSROC Academy players are training to be in the mix for the final selection.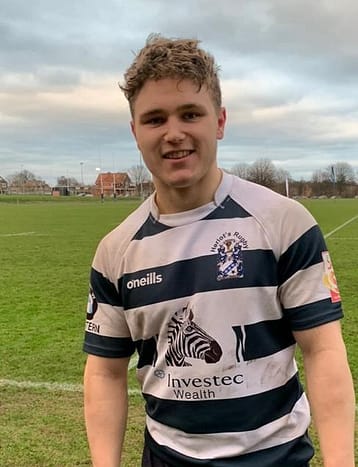 Scott, a centre, has played for Heriot's in the Premiership before the FOSROC Super6 and has previously represented Scotland in the U16, U17, U18 and U19 age grades.
''I feel proud to be included in the squad and I was excited to get to training with the rest of the boys and do my best to put my foot forward for further selection,'' he said.
''The first camp was brilliant! There was a good to mix of talent and it was great to see some new faces.
''We are having internal games so it's good to get matches again after a long year without them! It's also good to be under the national coaches to keep learning and getting better.''
Duncan, the youngest FOSROC Super6 debutant when he was 17 years old, is keen to continue to build on his experience as a hooker in the age grade set up.
''It's a really privileged position to be in, even more so than normal as we're given the green light to get into some proper rugby again,'' he said.

''I've been to the last two U20 camps and they've both been great experiences. It's an environment where we're encouraged to have a crack at things, which I think is very beneficial for me as a player.''
As a Scottish Rugby FOSROC Academy player Scott has had the opportunity to train with Edinburgh Rugby.
''I've been one of the lucky ones with lockdown, as I've been able to train with the professional team and get a taste of that environment,'' he said.
''It's been great to have such a long period working under their Strength and Conditioning Coaches and to train with and learn from the senior boys.''
Duncan returned to pre-season training with the wider Heriot's Rugby Super6 Squad in March under the guidance of Head Coach Andrew Kelly and Strength and Conditioning Coach Jordan Welsh.
''Load wise I don't think it has been too much of a drastic change as I've been keeping myself ticking over but it really adds a bit more variety into my training diet. Jordan and Andrew have been really good with the session plans and it's something I really enjoy,'' he said.

''It's fantastic to be back training with the boys at Goldenacre, which was definitely something I have missed. Doing it as a team definitely makes the running a bit more manageable.''
Feature photo caption: Scott King playing for Blues Men in 2019.