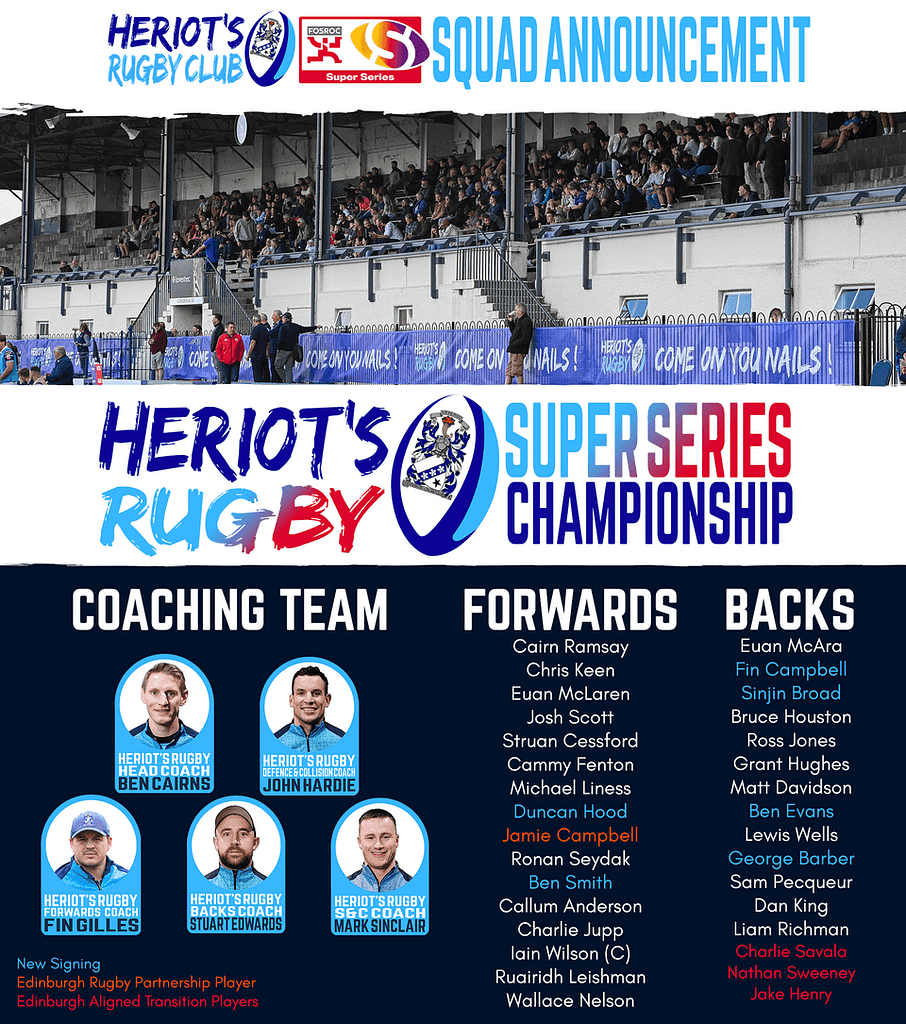 Heriot's Rugby Super Series Head Coach, Ben Cairns is delighted to announce his FOSROC Super Series Championship squad ahead of the opening game on Friday 28th July where Heriot's Rugby travel to Meggetland to face Boroughmuir Bears. There is good continuity in the squad with 90% of the players having played for Heriot's in previous Super Series competitions.
"It's exciting to be at the stage of announcing our squad for the upcoming Super Series Championship. With 29 contracted players, flexibility within the squad was a priority and we have a number of players who can cover a host of positions. We are also really pleased with the familiarity of the group, it's been a short turnaround since a relatively successful Sprint Series so to only have 3 players we would class as brand new should mean we can hit the ground running. The guys have been back in together for a few weeks now and we cannot wait to see how far this group can go."
Ben Cairns, Heriot's Rugby Super Series Head Coach
The FOSROC Super Series is the part-time professional league that bridges the gap between the club and professional game in Scotland. With nine players progressing from Heriot's Blues Men to the part-time professional team and eight players within the team having been educated within the North Edinburgh establishment, there is a strong local connection in the squad. Heriot's Rugby also have three players who are Edinburgh Rugby aligned transition players: Charlie Savala, Nathan Sweeney and Jacob Henry along with Jamie Campbell re-joining the squad as an Edinburgh Rugby Partnership Player.
Heriot's Rugby Captain, Iain Wilson, said: "The whole squad are really looking forward to getting the Championship season started away to Bears next Friday night. We know it will be a tough game but we've trained well over the last few weeks and continued to build on everything we showed during the sprint season. The new boys who have come in to the squad have all settled in well and added something extra. "
Heriot's Rugby have their first home game on Saturday 12th August, kick off 5pm, let's #GetBacktoGoldie in style, get your tickets from Citizen Ticket.
Squad
| | | |
| --- | --- | --- |
| 1 | Cairn Ramsay | PROP |
| 2 | Chris Keen | PROP |
| 3 | Euan McLaren | PROP |
| 4 | Josh Scott | PROP |
| 5 | Struan Cessford | PROP |
| 6 | Cameron Fenton  | HOOKER |
| 7 | Michael Liness | HOOKER |
| 8 | Duncan Hood* | HOOKER |
| 9 | Jamie Campbell* | LOCK |
| 10 | Ronan Seydak | LOCK |
| 11 | Ben Smith** | BACK ROW |
| 12 | Callum Anderson | BACK ROW |
| 13 | Iain Wilson ©  | BACK ROW |
| 14 | Ruairidh Leishman | BACK ROW |
| 15 | Wallace Nelson | BACK ROW |
| 16 | Euan McAra | SCRUM HALF |
| 17 | Fin Campbell** | SCRUM HALF |
| 18 | Sinjin Broad** | SCRUM HALF |
| 19 | Bruce Houston | STAND OFF |
| 20 | Ross Jones | STAND OFF |
| 21 | Grant Hughes | CENTRE |
| 22 | Matt Davidson | CENTRE |
| 23 | Ben Evans*** | WING |
| 24 | Lewis Wells | WING |
| 25 | George Barber** | WING |
| 26 | Sam Pecqueur | WING |
| 27 | Dan King | FULL BACK |
| 28 | Liam Richman | FULL BACK |
| 29 | Charlie Savala | STAND OFF |
| 30 | Nathan  Sweeney | FULL BACK/WING |
| 31 | Jacob Henry | WING |
*Re-signed for Heriot's Rugby
**New Signing
***Previously aligned to Heriot's Rugby as a senior Academy Player
Edinburgh Rugby Partnership Contracted Player
Edinburgh Aligned Transition Players
Players who have left since the Sprint Series:
Euan McVie – Signed with Edinburgh Rugby Senior Academy

Sam Wallace – Returns to Heriot's Blues Men

Cam Corbett – Returns to Hartpury University

Cam Jones – Pursuing professional opportunities (to be announced)

Aidan Boyle – Returns to Durham University

Kyle Browne – Moved to UAE due to work

Mikey Gray – TBC

James Couper – Glasgow Hawks